Four Inland Empire Community Garden Programs Working to Make a Difference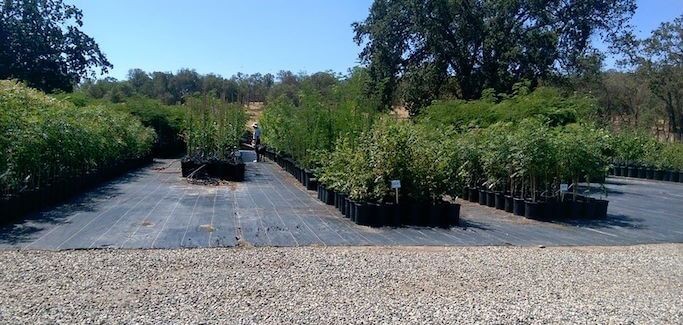 June 30, 2016 | AJ Hughes
Community-based agriculture is increasing across the Inland Empire(IE) as more community gardens and the programs related to them are being established. As outlined below, these efforts include many new farm plots where residents are growing their own food, learning new skills and gaining food system awareness. But the people establishing these gardens are going further than just turning bare dirt into growing grounds. They are implementing ancillary programs as well, thereby adding even greater value to their communities. Each of these various enterprises benefits their local cities and neighborhoods by increasing access to healthy and fresh foods, as well as providing employment, educational opportunities and a greater sense of community to everyone involved in their construction, day-to-day upkeep and expansion.
Incredible Edible Community Garden – Upland
A few years ago, Mary Petit and Eleanor Torres decided to tackle the problem of food insecurity in their local Upland area by working at a local community garden. Petit looked for an existing community garden with no success, so she and Torres began their own and named it the Incredible Edible Community Garden.
That single effort in Upland has expanded to include 14 different sites across the Inland Empire, with nine community gardens, two aquaponics facilities and three community fruit parks.
Petit and Torres have a forestry element as well, with The Guardian Project which allows people to sponsor and plant a tree in the name of an armed forces veteran. The project's goal is to obtain and plant over 10,000 trees, and got off to a great start when Southern California Edison recently donated 10,470 trees to the effort. By planting all these trees, the  organization will honor veterans while also helping combat global warming through the trees' shading and carbon sequestration abilities.
Regardless of whether it is their community gardens, their aquaponics facilities or their forestation project, a key characteristic of all the Incredible Edible Community Garden's efforts is that each actively involves lower-income people.
"Lower-income people having control over their own food is powerful and affirming," Petit told Grow Local Riverside. "This is all about growing health and well-being for the community."
Huerta del Valle Community Garden – Ontario
Huerta del Valle Community Garden is a thriving community garden that offers hope and a source of fresh, healthy produce to residents of an Ontario neighborhood struggling with high concentrations of poverty, obesity and food access.  
The whole enterprise is located on four acres of City of Ontario-owned land at the site of the former Linda Vista elementary school. It began in 2010 when Morgan Bennett, a former Pitzer College student, organized local residents to build the garden with the help of a grant from the Kaiser Permanente HEAL Zone initiative. Now, 62 families pay $10 annually for 20-foot by 10-foot plots on which they grow enough produce to feed themselves–and even have some excess to sell to other community members.
The garden is currently managed by Arthur Levine, who believes one of its main purposes is to educate people how to eat in a healthy manner.
In addition to growing food, Huerta del Valle is also all about community. According to Levine, the elected garden manager has to be a member of the community, and eight other community members are the garden leaders. A steering community, which meets every week, is open to all.
"Everything is decided there," Levine told Grow Local Riverside. "Workdays, garden organization, organizing volunteers, events we might have."
Huerta del Valle is also home to a small commercial farm, which employs people who want to gain farming knowledge. The produce from that farm is sold to nearby restaurants, and the proceeds go to covering the operational costs of the garden as a whole.
That money, as well as funds raised from a recent Kickstarter campaign, local contributions and events such as farm-to-table dinners, is also going towards the construction of permanent structures designed with the help of UC San Diego's Engineers Without Borders program. Once built, these structures will allow the garden to expand its educational and community programs.
Perris Green City Farm Program – Perris
The City of Perris's Green City Farm Program is quite new, with the first seeds being planted in the 85-feet by 120-feet urban garden at the City Hall Campus on March 31 of this year. It employs vertical aeroponic towers, hydroponic growing systems and raised beds to address challenges posed by traditional farming including access to land, water availability and usage, plant disease, and soil degradation. The first harvest is yielding lettuce, tomatoes, kale, cilantro and basil, as well as red, green, yellow and jalapeno peppers. With a stated goal of focusing on food, education and community building, the garden is even embellished with artwork from local students.
According to project manager Isabel Carlos, the city's assistant director for administrative services, the initiative was and is truly a civic and community effort.
"The direction came from the Perris City Council and the community," Carlos told Grow Local Riverside. "What's so cool about the vision is that it's really a trendsetting urban demonstration project designed to address many of the problems we're facing here in the Inland Empire. It's built to facilitate small footprint growing and be extremely water efficient, while producing 50 percent faster growth and a higher yield."
Contributions from the community, says Carlos, are plentiful. Riverside County Master Gardeners will help teach, Boys and Girls Clubs programs will center on the garden, and numerous businesses provided sponsorship and materials.
Fiddleneck Family Farms, Community Alliance for Urban Sustainable Agriculture – Claremont
Uncommon Good founder Nancy Mintie sees urban agriculture as a powerful tool to break cycles of intergenerational poverty. During the recession in 2011, Mintie decided to make urban farming one of the key facets in Uncommon Good's commitment to health, wellness, education and sustainability. To do this, she formed the the Community Alliance for Urban Sustainable Agriculture (CAUSA), with a mission is to provide community education, feed the hungry and raise produce that exceeds organic benchmarks.
Her idea began with a single community garden, but the organization quickly grew into a network of dozens of farm plots collectively known as 'Fiddleneck Family Farms'. These are located at private homes and a few churches throughout Claremont, Pomona, Ontario and Covina. CAUSA also includes more than 50 "fruit partners" that let people glean fruit, half of which is given to Uncommon Good clients and half of which is sold out of their Claremont headquarters.
The garden plots also function as working classrooms, teaching people about agriculture, science and business.
Categories