Water Usage, Policy and Technology and the Impact on Agriculture in Riverside and Beyond
May 27, 2015 | Robert Puro
California is in a drought crisis and urban water providers have been ordered to reduce demands by as much as 36%. Statewide, farmers are facing curtailments to their surface water rights and are rapidly depleting their local groundwater basins. Riverside, fortunately, is blessed with a secure, local, and sustainable groundwater supply, in no small part due to its agricultural heritage.
To explore the latest water challenges and opportunities for local agriculture in Riverside and beyond, please join us at the upcoming GrowRIVERSIDE Conference: The Future of Local Food where a panel of water experts will come together to discuss current water policy, the impact of the drought on growers in the city, region and state, and how growers can use water efficiently and economically.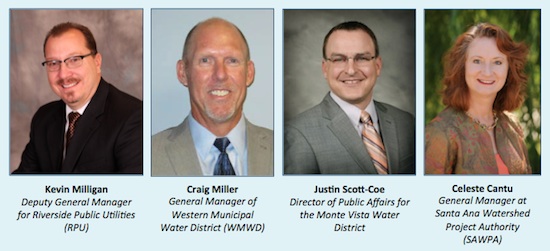 Kevin S. Milligan was named the Deputy General Manager for Riverside Public Utilities in December 2014. He also serves as the Assistant General Manager in charge of Water Delivery. He started his career with RPU in 1984 as an entry level engineering aide, advancing steadily to principal water engineer before joining the executive management staff in 2005.
Craig Miller, a veteran engineering professional with more than 25 years of experience, serves as Western's deputy general manager. He's responsible for assisting with managing the day-to-day activities of the District, including oversight of Operations, Engineering, Community Affairs and Water Resources.
Justin Scott-Coe, Public Affairs Director for the Monte Vista Water District, has over 11 years of experience in water resource management and public affairs program development. During his eight years at the District, Mr. Scott-Coe has served in and now manages the Public Affairs Department, providing public information, water resource planning, and demand management services.
Celeste Cantu is the General Manager, for the Santa Ana Watershed Project Authority and the Integrated Regional Watershed Management Plan called One Water One Watershed (OWOW) that addresses multiple issues and achieve sustainability in the Santa Ana River Watershed. Ms. Cantu has served as the Executive Director for the California State Water Resources Control Board and served as the USDA Rural Development State Director for California during the Clinton Administration.
The conference begins in 15 days. Register now to attend this session and many others to learn how to build and strengthen the local food and agriculture in the City of Riverside and beyond.
If you're looking for more information on the 2016 3rd Annual GrowRIVERSIDE Conference: Cultivating the Future, you can find out more about the program here and register here!
Categories