Disruptive Events and Their Impact on the Emergence of Technology in Agriculture
May 25, 2015 | Robert Puro
From droughts and global food price shocks to climate change and resource constraints, disruptive events continue to rattle an ever shifting agricultural landscape that must increase worldwide food production by 70% in the next 35 years to feed an estimated 10 billion by 2050. While many paint these disruptive events as cataclysmic, others rise to meet them with technological solutions – form high tech irrigation systems and innovative soil monitoring tools to hydroponics and aquaponics and novel GIS mapping tools – that seek to fill gaps, or else make growing even more efficient and sustainable.
To discuss how growers and entrepreneurs are using technology to combat the challenges posed by disruptive events while simultaneously bolstering a growing local food marketplace, the 2nd Annual GrowRIVERSIDE Conference: The Future of Local Food will feature a breakout session entitled "Disruption and Technology in Agriculture". The session will be run by the following noteworthy growers and technologists: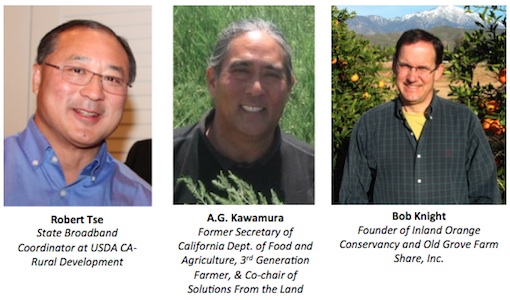 Robert Tse creates and implements innovative strategies to benefit California's regional and rural economies. He integrates policies, resources and initiatives through federal, state, local government and public-private partnerships. He is the USDA lead for the Strong Cities – Strong Communities, (SC2) White House pilot initiative in Fresno. He is driving strategies for urban-rural broadband infrastructure and development of regional agriculture technology economic clusters in areas such as Fresno and Sacramento. His broad strategic reach also includes goods movement, international trade, health-food-agriculture systems, veterans and farming, water, and energy.
A.G. Kawamura is a third generation fruit and vegetable grower and shipper from Orange County. He is co-chair of Solutions From the Land, a non-profit organization that collaborates with farmers, ranchers, foresters and stakeholders to implement climate smart land management practices and strategies.
Bob Knight is a fourth generation farmer in the Inland Empire, Bob Knight grows oranges, mandarins, grapefruit, kiwifruit, vegetables, two kids, and two dogs on his 67-acre farm in Redlands. His mission is to make SoCal small farms sustainable by connecting local growers to family, school, and college eaters through CSAs and Farm2School.
The conference is less than three weeks away and limited tickets remain.
If you're looking for more information on the 2016 3rd Annual GrowRIVERSIDE Conference: Cultivating the Future, you can find out more about the program here and register here!
Categories