Can Local, Urban Agriculture Scale? Hydroponic Farm Urban Till Says, 'Yes'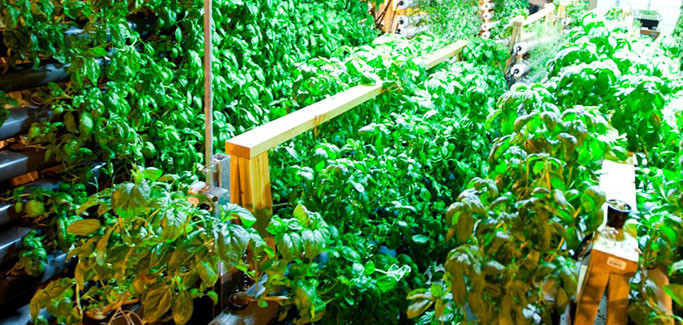 January 20, 2016 | seedstock
Sustainable growing methods are part of the very fiber of Urban Till's operations, but the Chicago-based hydroponics farm isn't an outgrowth of the organic food movement. In fact, it actually has roots in the traditional food industry.
Founder Brock Leach comes from a background in food distribution. Before starting Urban Till with his friend, hydroponics expert Todd Williamson, he worked as manager of continuous improvement over at Martin Brower, a multinational company that provides supply chain management services to restaurants operators around the globe. Watching the increasing costs of moving edible goods along the supply line, he came to the conclusion that local production of food could be profitable, if it was done right.
"When I looked at the other people doing hydroponics, it was all R&D hydroponics," he tells Seedstock. "There was nobody really focused on cost control, and that's why I thought it was a good business. That's my background that's where I've been successful in my career in the past."
Housed in a former bread factory in Chicago's SunGate industrial park, Urban Till grows herbs, greens and microgreens that are sold to the city's high-end restaurants. Whereas some hydroponics companies specialize in one product and rely on the traditional supply chain to sell it over a wide geographic area, Leach's business offers a range of products distributed to clients through his own local sales channels. To supplement its own inventory, the company also sells produce from other local farmers. It's a strategy that eliminates the overhead costs associated with transporting food over long distances.
Urban Till started in Williamson's basement in August 2011, with the two partners working out their own designs for systems that could be built cheaply and maximize space while minimizing grow time.
Back then, most practical hydroponics operations were engineered to grow marijuana. The two ended up developing a variety of different setups to accommodate different crops: an ebb-and-flow system for microgreens, vertically stacked NSP-lighted growing equipment for herbs and deepwater culture for lettuce.
During this initial stage, Urban Till's crew consisted of Leach, his partner, a couple part-time workers and volunteers. Williamson left the company after about a year-and-a-half to pursue other work. The company's workforce has expanded substantially since that time, and now numbers more than 20 employees.
Urban Till has grown in other ways as well. When it set up shop in SunGate Industrial Park back in January 2012, the hydroponic operations took up a scant 1,000 square feet, now it's up to 30,000 square feet. Over the last year, its client base has ballooned too, from 15 customers to over 100, and includes ritzy restaurants like Grace and TRU as well as higher volume eateries like Revolution Brewery.
Leach wouldn't disclose any numbers on annual harvests, citing the proprietary nature of that information. He was, however, happy to talk about the indoor farm's ecological impact.
"A lot of environmental upside is just inherent in the process of hydroponics, and we put a few processes in place to make that even better," he says. "The biggest sustainability piece in operations is being local and getting rid of that environmental footprint that comes with long distance distribution."
Hydroponics also offers a great opportunity for an indoor farm to be water positive, according to Leach. During the summer water from the A/C system is integrated with the facility's growing system, so there is zero water loss. Urban Till is looking to do the same in the winter for their dehumidification system. Although in Chicago that makes the water a little more expensive due to electrical costs, but it's more cost efficient in drier markets like Las Vegas that Urban Till has in its long-term sights.
Leach is confident that his business will expand, and hopes to one day have an Urban Till in every major market in the United States.
"Our main vision is to make local indoor growing cost-efficient enough so it becomes the most cost-efficient way to generate our food," he says.
Right now, the business is making the transition from research and development to its capitalization phase, developing the fiscal infrastructure and processes to transform it into a profit-making enterprise. To get to this point, Leach has gone through 36 different versions of his nursery operation. He says the biggest lesson he's learned from these multiple iterations is to embrace failure, learn from it and keep on pushing through.
"It's not easy, he says. "It's a lot harder than I even ever would have imagined, but most things that really change the world are harder than first imagined."
This article was originally published on Seedstock.com: http://seedstock.com/2014/09/03/chicago-based-hydroponics-farm-takes-local-food-production-to-the-next-level/
Categories