Value-Added Products from Citrus Jam to Goat Milk Soap Fuel Local Food Movement in Riverside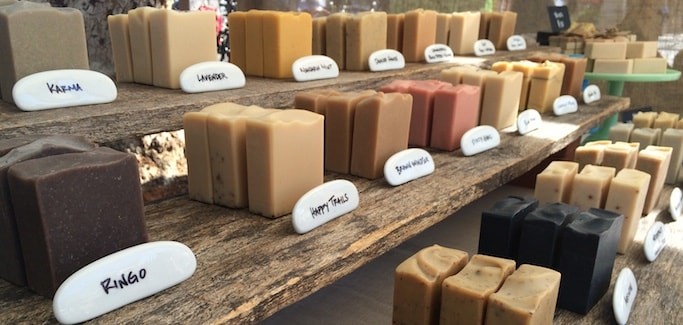 March 22, 2016 | AJ Hughes
For centuries, artisans have added value to agricultural produce. Today, soap made from locally sourced goat milk and jam made with citrus sourced from local groves are among numerous value-added items available in Riverside, California.
Laura Goalen-Anderson of Etta Mae Gourmet and Janice Lake of Goat Rodeo Soap took different routes toward becoming value-added entrepreneurs, and both are passionate about providing quality products that include ingredients grown and raised locally.
Goalen-Anderson has always liked to cook, and making jams is one of her main culinary interests. In 2013, the Riverside Food Co-op approached her to see if it could offer her jams to its members. She was delighted to be included, and her local "craft jammery" in downtown Riverside was born. She named the business after her grandmother, Etta Mae, who each year made strawberry jam and orange marmalade.  
When it comes to ingredients, Goalen-Anderson strives to stay as local as possible—Riverside growers are preferable, and she uses no out-of-state produce.
"I purchase produce from Greenbelt farmers," she says.
They include, but are not limited to growers from Riverside including Gless Ranch and Corona Farms.
Eclectic jam flavors comprise berry lemon, orange and fig, strawberry, blackberry peach and more. Goalen-Anderson tests flavors at fairs, including the California State Fair and the Riverside and Orange county fairs. Her jams have won several awards at these events, and she acknowledges that these accolades make it easier to sell her product.
"The most marketable thing for me was entering county and state fairs, and to be able to say I've had award-winning jams," she says. "I won my first blue ribbon at the California State Fair."
She's even come up with some of her own original flavors, including tropical citrus and bananas foster.
Demand has grown for her jams which now can be found at numerous Riverside locations, including California Citrus State Historic Park, Mission Inn, Riverside Art Museum, MADE, and the Mission Galleria.
Unfortunately, California cottage food laws don't allow Goalen-Anderson to ship her product. Despite this obstacle, her business continues to grow. Eventually, she would like to partner with a restaurant or food company.
Goat Rodeo Soap founder Janice Lake's love of farming began in rural Indiana where she was raised. Lake moved to California in the 1970s, and after working as a nurse in Sierra Madre, she and her husband decided in 2009 to pursue a more natural life on an urban farmstead. This is when Lake obtained her first dairy goats and started her new business.
"I wanted to make a natural product for the skin," she says. "Skin is the body's largest organ—it's not just what we eat, but what we put on."
Lake touts the benefits of goat milk as a soap ingredient: It's a great source of vitamins A and E, and since it's high in fat it provides robust moisture.
Lake sources milk from 14 of her own dairy goats. She sells every Saturday at the Riverside Downtown Farmers Market plus several other farmers' markets.
"We primarily sell at farmers' markets—it gives a sense of community," she says. "Customers get to know us and our background and products."
She wants to keep producing a good natural product without growing too large. She's also interested in possibly one day opening up a learning center on the farm where visitors can learn about farm life and animal husbandry.
Lake, Goalen-Anderson, and quite a few other value-added entrepreneurs are part of a burgeoning local food and agriculture movement in Riverside. There and in other cities and towns across the United States, local value-added agriculture is leaving an impact.
A 2012 California Department of Food and Agriculture study revealed that food and beverage processing in the state added $82 billion to the California's economy. According to the same study, the top four value-added food processing industries in the state are dairy production, wine and grape production, baking, and fruit and vegetable processing.
Seven years in, Goat Rodeo Soap is doing well.
"The business is growing," Lake says. "The goats pay for themselves."
Categories