Experts in Local Food System Development, Urban Agriculture to Highlight "GrowRIVERSIDE" Conference in June
February 26, 2015 | seedstock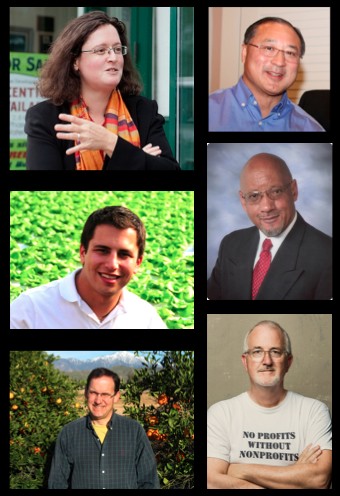 RIVERSIDE, Calif., Feb. 26, 2015 /PRNewswire/ — A stellar roster of sustainable urban agriculture experts is slated to impart insight and ingenuity at the 2nd Annual GrowRIVERSIDE Conference: The Future of Local Food.
Presented by Seedstock in partnership with the City of Riverside, the event, scheduled for June 11-13, fosters the growth of a sustainable local food and agriculture system that benefits communities, environments and economies in Riverside and in cities supporting these endeavors.
"This year, GrowRIVERSIDE will dive deeply into the nuts and bolts of what it takes to develop and strengthen a city's urban agriculture and local food infrastructure," said Robert Puro, Seedstock co-founder and GrowRIVERSIDE conference organizer.  "Experts in farming small plots, new business creation, local food marketplace development and community food access will come together to offer solutions on how Riverside can become a model for other cities to follow."
Conference organizers are pleased to welcome Robert Egger, founder and president of L.A. Kitchen, as the featured keynote speaker at the June 11 Citrus Circle Dinner. L.A. Kitchen, which currently operates a pilot program out of St. Vincent Meals on Wheels in Los Angeles, recovers fresh fruits and vegetables to fuel a culinary arts training program for young men and women coming out of foster care and older adults returning from incarceration.
Daytime program keynotes will be delivered by Rodney Taylor, Director of Nutrition Services for the Riverside Unified School District, and Bob Knight, founder of the Inland Orange Conservancy and the Old Grove Orange farmer marketing alliance. Taylor, a noted pioneer and expert in farm-to-school salad bars, is particularly known for establishing the "Farmers' Market Salad Bar" (FMSB) program in 1997, while working as Director of Food and Nutrition Services in the Santa Monica-Malibu Unified School District. Knight is a fourth generation Inland Empire farmer whose mission is to make Southern California small farms sustainable by connecting local growers to family, school, and college eaters through CSAs and Farm2School.
The multi-day program will explore a myriad of topics via plenary discussions and breakout sessions. Presentations will address increasing local sustainable food production using economically viable urban farming business models and innovative growing technologies; creating new farming enterprises and food businesses; investigating various local food sales channels; and food policy.
Additional speakers scheduled to share their expertise will be:
– Mateo Aguilar, co-founder of Local Food Lab;
– Jim Bergantz, sales engineer for Agra Tech, Inc.;
– Erika Block, founder and CEO of Local Orbit;
– Viviana Franco, executive director of From Lot to Spot;
– Hop Hopkins, co-founder of PANTHER RIDGE FARM;
– Rishi Kumar, operator of The Growing Home;
– David Rosenstein, founder of EVO Farm; vice chairman of the Aquaponics Association;
– Pierre Sleiman, CEO of Go Green Agriculture;
– Robert Tse, State Broadband Coordinator for USDA CA Rural Development;
– Krysia Zajonc, CEO and co-founder of Local Food Lab.
To purchase early bird tickets, visit http://growriverside.eventbrite.com
About Seedstock
Seedstock is a social venture that fosters the development of robust and sustainable local food systems through consulting services and the use of a variety of tools, including the news and information blog Seedstock (www.Seedstock.com) and live events. Seedstock works with government agencies, municipalities and all private sector stakeholders to create a sustainable food ecosystem of innovation, entrepreneurship and investment.
About the City of Riverside
The City of Riverside made the navel orange a symbol of bounty and a household staple in California. Today the City maintains more than 1,000 acres of citrus groves. As Riverside continues to grow, so does local pride for the City's rich agricultural history and consumer demand for healthful local foods. A full 11 percent of the city's total acreage is designated for agricultural use, unparalleled for a Southern California city of its size.
Categories