City of Perris's Cutting-edge Urban Community Garden to Tackle Growing Problems in Inland Empire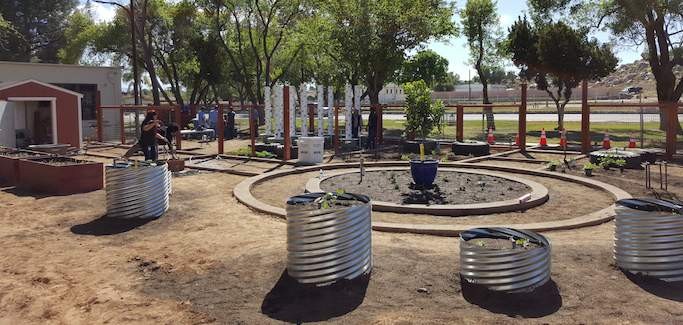 April 11, 2016 | Anne Craig
In the City of Perris, CA located in Riverside County, the future of urban farming will soon be on full display. On April 23, the city will host an open house to introduce citizens to the  Green City Farm Program, a state-of-the-art urban community garden initiative intended to provide a rich harvest of food, education and community building.
"The direction came from the Perris City Council and the community," says project manager Isabel Carlos, Assistant Director of Administrative Services for the city. "What's so cool about the vision is that it's really a trendsetting urban demonstration project designed to address many of the problems we're facing here in the Inland Empire. It's built to facilitate small footprint growing and be extremely water efficient, while producing 50 percent faster growth and a higher yield."
Techniques being incorporated into the community garden design include vertical and horizontal growing systems: hydroponic towers that employ water to irrigate roots, aeroponic towers that mist plant roots to facilitate growth, aquaponic towers that make use of nutrients from fish to fertilize the plants, as well as traditional raised garden beds.
City workers, representatives of partner organizations Riverside County Department of Public Health and the Eastern Municipal Water District and elected officials gathered on March 31 to plant the first seeds. First crops will include lettuce, tomatoes, kale, cilantro, basil and an assortment of peppers—red, green, yellow and jalapeno.
Carlos says that the real first harvest is a rich crop of civic cooperation and a sense of growing excitement as the project kicks off in earnest. "From the initial concept to the installation has been about a year," she says. "We just started meeting with different community organizations one by one about the project and everyone got excited. The Master Gardeners program will be bringing in the educational aspect. The Boys and Girls Clubs will be building programming around the garden. Many local businesses participated in the 'buy a brick' sponsorship program. A nursery is providing 1,000 plants; another company is providing pavers, ACE Hardware has donated materials and supplies and the use of large equipment. People really want to contribute and be a part of this."
Riverside County Youthbuild Plus students from the California Family Life Center came out to install the garden the week before the March 31 planting, at which 18 to 24-year-old workers from the Youth Ecology Corps Program, which provides jobs to young adults interested in working in the water industry and related fields, planted seeds alongside the local notables.
"We have been talking about this for a long time," said Perris Mayor Daryl Busch at that event, according to a Perris press release. "It represents a new look and a fresh look for our Live Well program. It's a great experience for our community, especially for our children who can learn about gardening, growing healthy food and making healthy food choices. I look forward to seeing it progress." The Live Well Perris program also incorporates nutritional and cooking education, exercise programs and health-oriented community events.
The project's approximately $75,000 initial cost has been almost completely covered by sponsorship from the Western Riverside Council of Governments, EMWD, Kaiser Permanente, Ganahl Lumber, Ahern Rentals, ACE Hardware, Tuff Shed and Village Nurseries.
"Beyond just attracting community members who want to maintain their own plots, we are going to keep engaging the community on a broader scale," says Carlos. "We're working on the initial 500 square feet of the quarter acre right now; the major part of the harvest will go to those who maintain the garden and the rest will be donated. At some point maybe we'll think about a little bit of sales — the Department of Health comes to town regularly with their mobile produce bus, and maybe we'll arrange with them to market our own label, 'Locally Grown at Perris City Hall.' And if another community wants to do this, we have all the materials lists and instructions — just call.."
The official unveiling will take place during an open house from 10:30 a.m. to 1:30 p.m. on April 23 during the City's fourth annual health fair.
Categories