'Beyond Organic' Farm Emerges in Riverside's Glen Valley to Seize Upon Local Food Opportunity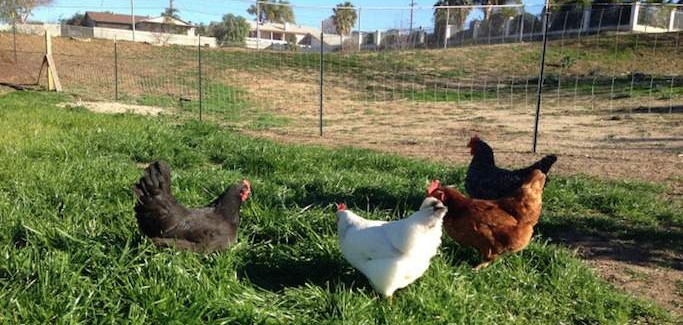 April 8, 2016 | AJ Hughes
The story of Sunny Cabana Farms began when Cal State Fullerton lecturer Kayla Causey and her husband decided that they wanted more elbow room than their Orange County suburb could provide. So, in 2014 they moved to Riverside's spacious Glen Valley area and began to lay the groundwork for a farm that would provide locally produced food and value added products to area residents.
Five chickens who already lived on the two-acre plot gave Causey a head start. Since then, Causey's added dairy goats and Kunekune pigs (a heritage breed) as well as more chickens. An onsite orchard produces oranges, lemons, pomegranates, pears, grapefruit and apricots. Currently Causey milks seven dairy goats, which provide milk and kefir for her family. From the goat milk she also makes cheese and a variety of soaps and lotions.
Sunny Cabana Farms sells several of these items, but since it's not a licensed grade A dairy, its milk and cheeses can't legally be sold for human consumption.
"There's big demand for organic goat milk," Causey says. "Regulations are very strict, as they should be. We're looking to see how regulations could scale down to our size."
"It's a bummer because it's really good milk," she continues. "We are looking into the possibility of licensing a micro-dairy and creamery and making that the main focus of the farm. If we do become licensed, I hope to sell cheese to local restaurants, wineries and cheese shops, especially in Temecula wine country."
In the meantime, Causey strives to keep providing high-quality and locally-produced food and agricultural products to Riverside County, Orange County and beyond.
"It's important that our customers know where their food comes from," says Causey. "We're small—we don't foresee serving a large market, but we know all our customers by name."
A variety of value added farm-produced items including jellies, sauces, soaps and lip and maternity nipple balms, may be purchased online. Regular deliveries are made to Orange County for customers there (pickup location is at Cal State University, Fullerton), and produce and value added products are available at an onsite farm-stand.
Causey believes it's the quality of the farm's products that distinguishes Sunny Cabana Farms. Even though the farm is not certified-organic it adheres to strict organic practices. These consist of rotational grazing in pasture and avoidance of corn and soybeans in feed, supplemented with organic alfalfa and/or grain.
"Many would consider us 'beyond organic' because we take advantage of biodiversity and do our best to adopt permaculture techniques and designs," she says. "We are a young farm and so certainly still are growing and learning."
Part of the learning curve was positive—finding out that there indeed is a viable market for first-rate local produce and value added agricultural products.
"Food is expensive," says Causey. "It costs money for a good product. But people have been willing to pay."
Causey already knew that running a farm required hard work, but there's a difference between knowing and doing. Her husband teaches psychology on a full-time basis at Cal State University, Fullerton, so she takes on the bulk of the farm labor, which she enjoys but acknowledges that it can be demanding at times.
"Farming is an everyday job," she says. "There are no days off, unless you have hired help. It involves lots of hard work and physical labor."
That hard work is yielding results. Despite the fact that Sunny Cabana Farms is still in an early growing phase, Causey says it's already paying for itself. Accordingly, she's ambitious and optimistic about the future.
"I hope to scale up a bit, either with the dairy and/or other aspects of the farm," she says. "The first obstacle is that we need more land, and there is some great agricultural acreage around us. But it is priced for development, not farming."
If more acreage can be obtained for the farm, Causey sees the possibility of adding vegetables to its produce lineup, which could turn the operation into a "one-stop shop" polyculture farm for the entire community. Presently, though, she's pleased with the progress made so far.
"I think we're getting there," she says.
Categories