'Grow Riverside' Conference to Focus on Sustainably Re-integrating Agriculture into Cities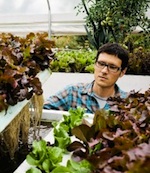 February 12, 2014 | seedstock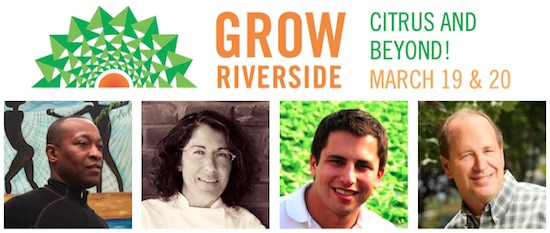 Re-integrating agriculture into cities, developing economically viable urban farming operations on small plots of land, exploring how best to implement policy to support and foster such endeavors – these are but a few of the important issues and opportunities that will be examined in depth at the upcoming Seedstock 'Grow Riverside' conference on March 19 – 20 at the Riverside Convention Center in Riverside, CA.
The conference will focus on the development of urban agriculture strategies and solutions that cities can use to reconnect with their agricultural roots and create economic opportunities that investors, citizens, growers, government officials and other major stakeholders can leverage to foster a robust and sustainable local food future.
The event is PRESENTED in partnership with the City and Community of Riverside by SEEDSTOCK, a social venture that fosters the development of robust and sustainable local food systems through the use of a variety of tools, including the news and information blog seedstock.com, live events and consulting services.
Register now to receive the Seed Saver Special Rate to learn from and interact with these experts:
We have an exciting list of expert speakers from across the sustainable agriculture spectrum including:
Richard Conlin – Former Seattle City Councilmember and prime mover behind Seattle's 'Local Food Action Initiative,' passed in 2008, that envisions an exciting new urban agriculture model that is good for the economy, the environment, and our health.
Dr. Glenda Humiston – California State Director for U.S. Department of Agriculture Rural Development.  Humiston brings over 25 years of experience working on public policy development and program implementation supporting sustainability.
Rodney K. Taylor – Director of Nutrition Services, for the Riverside Unified School District. A noted pioneer, and expert in farm-to-school salad bars, he is particularly known for establishing the "Farmers' Market Salad Bar" (FMSB) program in 1997, while working as Director of Food and Nutrition Services in the Santa Monica-Malibu Unified School District, in Santa Monica, California.
Pierre Sleiman – Founder of Go Green Agriculture, a company that builds high tech mini-farms in or near large cities. Pierre is a young entrepreneur, who has become involved in the mission of accelerating the movement towards local and sustainable farming and fostering interest in youth to choose agriculture as an exciting career.
Curt Covington – Managing Director, Agribusiness Banking Division for Bank of the West. With 34 years of agricultural banking experience, Curt is responsible for managing the growth and performance of the bank's $1.5 billion regional agricultural loan portfolio.
Bob Knight – Founder of Old Grove Farm Share, which make local growers sustainable by connecting them to local families and school districts via direct sales.
Leah Di Bernardo – Partner in Cultivating Good and Co-leader of Slow Food Temecula Valley. Di Bernardo is also the award-winning Chef of E.A.T Extraordinary Artisan Table, a locally grown Eatery in the Temecula Valley. Dedicated to providing farm foraged, hand crafted fair, since 2002. E.A.T's business-mission statement champions purchasing local and supporting your neighbors, as this stimulates the region's economy and creates conviviality, loyalty & community.
Hassan Ghamlouch – Co-founder of The Grove, a 10-acre organic family farm located in the Riverside 'Greenbelt'. The Grove is committed to Organic growing practices with an emphasis on sustainable farming and conserving natural resources.
Register now to receive the Seed Saver Special Rate to learn from and interact with these experts:
Additional notable speakers include:
Representative Mark Takano – California's 41st Congressional District
Val Dolcini – State Executive Director of the U.S. Department of Agriculture's Farm Service Agency (FSA)
Paula Daniels – Founder of the Los Angeles Food Policy Council
Don Webber – Partner, Cultivating Good, Inc. and Owner of Harvest 2U
Dwight Detter – Local Forager, Whole Foods Market
Etaferahu Takele – County Director/Area Advisor Farm Management/Agricultural Economics
Milt McGiffen – Cooperative Extension Vegetable Crops Specialist & Plant Physiologist
Gabriel Ruiz – Unity Farm
David Rosenstein – Founder of EVO Farm and Chair of the Aquaponics Association – Western Region
Fortino Morales III – Community Garden Coordinator at University of California, Riverside
Rickey Smith – Founder of Urban Green
Noah Fulmer – Farm Fresh Rhode Island
Rick Pruetz (FAICP) – Founder of Planning & Implementation Strategies
Gregg Warren – American AgCredit
Erika Block – Local Orbit
John Gless – Gless Ranch
Robert Hewitt – USDA Natural Resources Conservation Service (NRCS)
Clay Monroe – Principal Account Manager for the City of Riverside Public Utilities Department
… and more!
Register now to receive the Seed Saver Special Rate to learn from and interact with these experts:
Categories