Seedstock's "Grow Riverside" Sustainable Agriculture Conference Enhances Event with Nationally Known Experts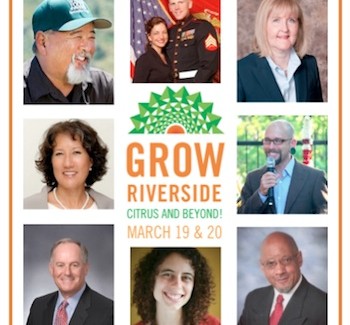 February 26, 2014 | seedstock
RIVERSIDE, Calif. — Spearheading the movement to assist cities develop more urban sustainable farming within their environs, the "Grow Riverside: Citrus and Beyond!" conference continues to expand its stellar program lineup with notable authorities in resource management, agricultural growth strategies and public policy. The March 19-20 event presented by Seedstock in partnership with the City and Community of Riverside will be held at the Riverside Convention Center.
Appearing as opening night keynote is Richard Conlin, who created Seattle's local food initiative while serving as a City Councilmember. Conlin will talk about how to develop and establish urban sustainable agricultural policies – from land-use to funding efforts.
"Local food policy is a key element in creating environmental sustainability, economic prosperity and improved public health," Conlin said. "I hope my experience can help provide guidance on how to put this into practice."
Conlin's "Citrus Circle Dinner" presentation will culminate the farm-to-fork dining event sponsored by The Salted Pig, Downtown Riverside's gastro pub noted for incorporating local citrus into both its cocktail and culinary creations.
Conference participants also will garner insight from several newly added speakers. Salted Pig owner and Riverside native, Ronaldo Fierro, will join Don Nishiguchi, regional local produce buyer for Whole Foods Market, Martin Anenberg, founder of So Cal Farm Network, and Gayle Shockey-Hoxter, Program Chief for the County of Riverside Department of Public Health, Nutrition & Health, in exploring the "Marketing Opportunity for Local Agriculture." Leah Di Bernardo, executive chef for E.A.T. (Extraordinary Artisan Table), will assist in an examination of "The Value and Meaning of Local Agriculture." Noah Fulmer, director of capacity building at Local Orbit and co-founder and former executive director of Farm Fresh Rhode Island, will collaborate on a review of "Local Ag Growth Strategies." Mark Hoddle, director of the Center for Invasive Species at UC Riverside, along with fellow experts, will consider the economic viability of growing citrus in Riverside.
Rounding out the conference will be several pragmatic offerings, including: "Resources and Responsibility" – how a city's land, water, energy and community resources can be sustainably managed and leveraged to create a successful local agriculture economy; as well as, "From Start to Finish: Setting up an economically viable operation on a 1 – 2 acre plot."
Organized for the city of Riverside by Seedstock co-founder Robert Puro, the conference has been formulated as a model for cities looking to enhance local agriculture. For additional information pertaining to the event, ticket prices, panels, program speakers, and registration, please visit www.growriverside.com.
About Seedstock
Seedstock is a social venture that fosters the development of robust and sustainable local food systems through consulting services and the use of a variety of tools, including the news and information blog Seedstock (www.Seedstock.com) and live events. Seedstock works with government agencies, municipalities and all private sector stakeholders to create a sustainable food ecosystem of innovation, entrepreneurship and investment.
About the City of Riverside
The City of Riverside made the navel orange a symbol of bounty and a household staple in California. Today the City maintains more than 1,000 acres of citrus groves. As Riverside continues to grow, so does local pride for the City's rich agricultural history and consumer demand for healthful local foods. A full 11 percent of the city's total acreage is designated for agricultural use, unparalleled for a Southern California city of its size. Riverside's growers, local government officials, and residents are at the forefront of innovation as a city devoted to sustainable local agriculture.
The Wolcott Company
Denis Wolcott, 213-200-1563
email hidden; JavaScript is required
Categories