Congressman Mark Takano to Address Seedstock's "Grow Riverside" Sustainable Agriculture Conference
February 6, 2014 | seedstock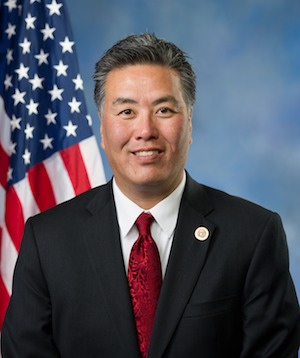 Press Release – Seedstock today announced Congressman Mark Takano (CA-41) as the opening day luncheon speaker for the "Grow Riverside: Citrus and Beyond!" conference. The March 19-20 event, to be held at the Riverside Convention Center, will assist cities in examining and developing solutions to reconnect with their agricultural roots as well as evaluate potential economic and public health benefits of sustainable urban agriculture.
Representative Takano presently serves on the House Veterans' Affairs and the Science, Space and Technology committees. Prior to being elected to Congress, Takano spent 23 years as a high school teacher in the Inland Empire and more than 20 years on the Riverside Community College Board of Trustees. The Congressman, an advocate of "slow food" – an international movement founded by Carlo Petrini in 1986 – will share his perspective on this fast food alternative and the quest to preserve traditional and regional cuisine through the farming of plants and seeds characteristic of the local ecosystem.
"The progressive sustainable urban farming innovations to be presented at this event will prove an invaluable asset to Riverside and its environs," said Congressman Takano. "I am greatly impressed with the forward-thinking leaders of this historically rich agricultural region and look forward to witnessing the future success of the collaborations that are certain to be generated as a result of the Grow Riverside conference."
Conference participants interested in establishing their own small "slow food" urban farming interests are encouraged to attend the March 20 afternoon presentation: "From Start to Finish: Setting up an economically viable operation on a 1 – 2 acre plot." The panel will feature faculty from UC Riverside Cooperative Extension, including: Milt McGiffen, Cooperative Extension Vegetable Crops Specialist & Plant Physiologist; Peggy Mauk, Director of Agricultural Operations Cooperative Extension Specialist, Subtropical Crops; and, Etaferahu Takele, County Director/Area Advisor Farm Management/Agricultural Economics.
Organized for the city of Riverside by Seedstock co-founder Robert Puro, the conference has been formulated as a model for cities looking to enhance local agriculture. To register for the conference, please click here: http://growriverside.eventbrite.com
CONFIRMED SPEAKERS INCLUDE:
Glenda Humiston – California State Director at the U.S. Department of Agriculture (USDA), Rural Development
Bob Knight – Founder of Inland Orange Conservancy and Old Grove Orange, Inc.
Val Dolcini – State Executive Director of the U.S. Department of Agriculture's Farm Service Agency (FSA)
Colin and Karen Archipley – Archi's Acres and Veterans for Sustainable Agriculture Training program (VSAT)
Mark Hoddle – Biological Control Extension Specialist at UC Riverside
Erika Block and Noah Fulmer – Local Orbit
Paula Daniels – Founder of the Los Angeles Food Policy Council
Don Webber – Partner, Cultivating Good, Inc. and Owner of Harvest 2U
Leah Di Bernardo – Exec. Chef & Founder of E.A.T. Extraordinary Artisan Table and Partner, Cultivating Good, Inc.
David Rosenstein – Founder of EVO Farm and Chair of the Aquaponics Association – Western Region
Milt McGiffen – Cooperative Extension Vegetable Crops Specialist & Plant Physiologist at UC Riverside
Pierre Sleiman – Founder of Go Green Agriculture
Rickey Smith – Founder of Urban Green
Rodney K. Taylor – Director of Nutrition Services, for the Riverside Unified School District
Dwight Detter – Local Forager for Whole Foods Market
Hassan Ghamlouch – The Grove
Gabriel Ruiz – Unity Farm
Daniel Aaron Francis – Riverside Permaculture Guild
Etaferahu Takele – Riverside County Director/Area Advisor Farm Management/Agricultural Economics for UC Cooperative Extension
Robert Hewitt – USDA Natural Resources Conservation Service (NRCS)
Clay Monroe – Principal Account Manager for the City of Riverside Public Utilities Department
Fortino Morales III – Community Garden Coordinator at University of California, Riverside
Rick Pruetz (FAICP) – Founder of Planning & Implementation Strategies
REGISTRATION & TICKETS: A limited number of Seed Saver Tickets remain, so register quickly to reserve your spot!  http://growriverside.eventbrite.com
About Seedstock
Seedstock is a social venture that fosters the development of robust and sustainable local food systems through consulting services and the use of a variety of tools, including the news and information blog Seedstock (http://www.Seedstock.com ) and live events. Seedstock works with government agencies, municipalities and all private sector stakeholders to create a sustainable food ecosystem of innovation, entrepreneurship and investment.
Categories