Seedstock's "Grow Riverside" Sustainable Agriculture Conference Nears Discounted Registration Deadline
January 14, 2014 | Robert Puro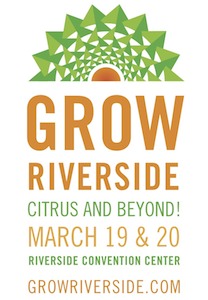 RIVERSIDE, CA– Little more than a week remains to obtain discounted registration for the "Grow Riverside: Citrus and Beyond!" Conference (http://growriverside.com). The event, to be held Wednesday and Thursday, March 19-20, at the Riverside Convention Center, will assist cities in examining and developing solutions to reconnect with their agricultural roots and unite citizens, growers, advocates, government officials and other major stakeholders around the economic opportunities that can result from employing sustainable agriculture.
In compliment to featured keynote presentations "The Economic and Societal Benefits of Developing a Local Food Systems Infrastructure in a City," "Putting Policy into Place," and "Health and Community Benefits of Local Agriculture," the two-day program will offer a series of panels including:
Local Ag Strategies – a look at the infrastructure needed to grow new farmers, including recommended educational programs, farmer training, incentives for entrepreneurs, and more;
The Market Opportunity for Local Agriculture – an exploration of market demand for locally produced food and the challenges to procurement faced by sourcing agents, distributors and retailers;
Local Agriculture Innovation – an examination of various technologies (aquaponics, irrigation technology, et al) as well as new business models (CSA, direct marketing) enabling the development of economically sustainable small-scale farming operations;
Funding the Future of Local Agriculture – an investigation of the various investment routes (VC, crowdfunding, USDA loans and grants) that startups, from new farmers to digital technology solutions providers, can take to launch their businesses; and
Citrus and Beyond! – an analysis of the economic viability of citrus in Riverside, and other citrus-growing cities, along with its challenges, opportunities, threats and weaknesses.
The program, organized for the City of Riverside by Seedstock co-founder Robert Puro, has been formulated as a model for any and all cities looking to enhance local agriculture. The deadline to purchase tickets at the "early bird" price ends Friday, Jan. 17. For additional information pertaining to the event, ticket prices, program speakers, and registration, please visit www.growriverside.com
CONFIRMED SPEAKERS INCLUDE:
Glenda Humiston – California State Director at the U.S. Department of Agriculture (USDA), Rural Development
Bob Knight – Founder of Inland Orange Conservancy and Old Grove Orange, Inc.
Val Dolcini – State Executive Director of the U.S. Department of Agriculture's Farm Service Agency (FSA)
Gayle Hoxter – Director of Nutrition Services and Health Promotion for the County of Riverside
Colin and Karen Archipley – Archi's Acres and Veterans for Sustainable Agriculture Training program (VSAT)
Paula Daniels – Founder of the Los Angeles Food Policy Council
Gabriel Ruiz – Unity Farm
David Rosenstein – Founder of EVO Farm and Chair of the Aquaponics Association – Western Region
Pierre Sleiman – Founder of Go Green Agriculture
Hassan Ghamlouch – The Grove
Leah Di Bernardo – Exec. Chef at E.A.T. Extraordinary Artisan Table
Rickey Smith – Founder of Urban Green
Rodney K. Taylor – Director of Nutrition Services, for the Riverside Unified School District
Dwight Detter – Local Forager for Whole Foods Market
Daniel Aaron Francis – Riverside Permaculture Guild
Don Webber – Owner, Harvest 2U
Robert Hewitt – USDA Natural Resources Conservation Service (NRCS)
Clay Monroe – Principal Account Manager for the City of Riverside Public Utilities Department
Fortino Morales III – Community Garden Coordinator at University of California, Riverside
Rick Pruetz (FAICP) – Founder of Planning & Implementation Strategies
More information on the conference: http://growriverside.com
Categories