For Homeless in Santa Cruz, CA, Garden Project Offers Hope, Stability, and Jobs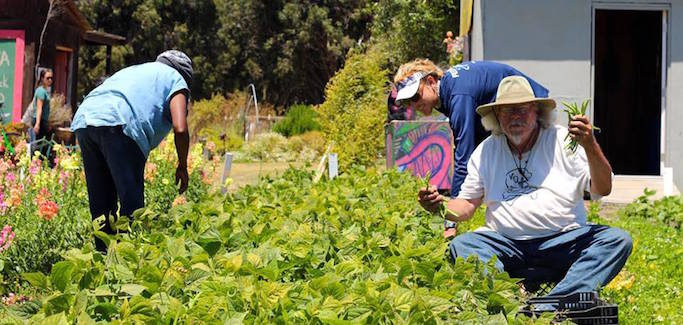 December 26, 2016 | Charli Engelhorn
Talking about the homeless population of America is popular these days. And yet fixing the situation seems, to many, an impossibly overwhelming task. Others are proving it's not. The Santa Cruz Homeless Garden Project (HGP) uses sustainable agriculture as the springboard to a safer, productive and more hopeful life for many. The agriculture and gardening training provided to the homeless of Santa Cruz County through the project has culminated in both jobs and permanent housing for its trainees.
"We find people that express much greater degrees of well being after they are with us for a year, whether it's in their diet, in their sense of self, in their ability to set goals and achieve them, in how connected they feel to the community," says Darrie Ganzhorn Executive Director of the Homeless Garden Project.Established in 1990, the HGP was the brainchild of Paul Lee, a member of the Citizens Committee on Homelessness. Lee began spending nights along with other board members in the homeless shelter.
"He noticed that when he woke up in the morning that there was a lot of raw energy and he wondered how could anyone dream of something better and dream of a better future without having safety and beauty during their day? So he had an idea for a garden," says Ganzhorn. "Somebody donated a whole lot of herb starts to him and he thought 'well I have to do my homeless garden project now.'"
The "garden" is an organic farm that occupies 3.5 acres of leased vacant land on the west side of Santa Cruz. In-ground farming using biodynamic French intensive methods is split between growing seasonal vegetables with strawberries as a specialty and growing lavender and other flowering plants. After drying, the lavender becomes a main ingredient in the value-added products trainees create during the winter months and sell alongside produce in their virtual and online stores.
Beyond offering a very tactile pick your own program and using the vegetables grown by the homeless and their helpers to create CSA baskets (the CSA program began in 1992, first in the county), the HGP provides agriculture training and transitional employment to the homeless, assisting in housing and permanent jobs. "In the last two graduating classes 96 percent of our people got into jobs and housing," says Ganzhorn.
HGP provides two main training programs. The Natural Bridges Farm Program teaches participants how to grow, harvest, and sell organic produce and flowers. The Women's Organic Flower Enterprise teaches flower drying skills, showing how to turn products from the garden into value-added products in the HGP store. Trainees are paid for their time, and interns and community volunteers provide additional work hours. Part of the work involves running the farm stand and preparing orders for HGP's CSA baskets.
The trainees are the core of the project and the impact of the program is both physical as well as psychological. With an abusive past, complex PTSD and at risk for becoming homeless, 19-year-old Kathleen Groves found meaning through the project. "A new sense of direction and purpose flowed through my life and internal barriers that once seemed impenetrable gave way. For the first time in my life, I felt open, free and capable. I have become free to express myself and grounded in my choices," says Groves. "I have found stable housing and am working to become a tutor. I have a sense of security and peace now, a foundation upon which I can firmly stand."
27-year-old Marine veteran Shannon McGurk left jail and drugs behind him when he entered sober living housing and joined the trainee program. "I knew next to nothing about farming or gardening before I started working here, and I learn more every day," says McGurk. "I'm very grateful to have this program in my life and if every county had a program like it, it would de-stigmatize homelessness statewide, maybe then, the nation. The farm as a whole is a perfect marriage of freedom and structure, and is one of the best things in my life today."
Initially engaging the homeless is the most challenging part of the process according to Ganzhorn. Word of mouth among trainees plays a large role as does sharing goals with the nonprofit community network. "We have 17 positions that are paid by our program and our goal is to double that over the next five years to 34 positions," says Ganzhorn. "We're also working with another agency called Second Career Employment Program and we have a few people that work with us through their program, and we're getting ready to work with CalWORKs."
By engaging with other service providers the HGP team assists trainees in finding landlords to fill their housing credits and transition to permanent positions. A local garden nursery has provided several employment opportunities for the once unemployable. A permanent address both administratively as well as physically prevents many homeless people from entering the employment system. The HGP allows trainees to use their address while they are transitioning.
For Ganzhorn, the program's success grows from the roots. "There's something about food that just breaks down people's reserve. They throw themselves head long into it and fall in love with farming and the garden and our work."
Future plans for HGP include program expansion and finding more ways to engage the homeless population to increase the positive impact of the program.
Categories