Vacant Lot Turned Urban Farm Transforms Community, Increases Food Access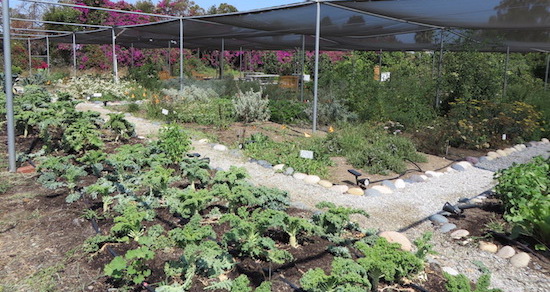 January 2, 2017 | Maria Hsin
On a recent Friday morning, eggs, figs and other vegetables and fruits were being placed on the back of a small truck destined to be sold at a farm stand in the parking lot outside of the Senior housing block in the Carmelitos Public Housing Community in Long Beach, CA. The produce was grown on site at The Growing Experience (TGE), a seven-acre urban farm in North Long Beach that is located on a previously vacant lot that is part of the same housing complex.  
The TGE urban farm is unique in that it is owned and operated by the Housing Authority of the County of Los Angeles (HACoLA), which manages 3,229 units of public and other affordable housing for the county's Public Housing program. In 1996, HACoLA received a US Department of Housing and Urban Development Economic Development Initiatives Grant to transform the vacant lot on which TGE now sits into a neighborhood amenity. In addition to the farm, a 2.5-acre community garden offers families an opportunity to grow their own produce in individual plots.
"The North Long Beach community has been historically under-served and classified as a food desert," says Holly Carpenter, program manager with the Housing Authority of the County of Los Angeles. "TGE was designed to help meet the needs of the community by increas[ing] access to healthy foods."
---
If you are going to be in the Southern California area, the Seedstock 'Future of Food – Urban Ag Field Trip' will be visiting the garden on January 27, 2017 as part of its tour. Learn more and register here: http://seedstockurbanag.eventbrite.com
---
Carpenter credits Jimmy Ng, a landscape architect by trade, with helping to develop the TGE farm. Prior to its incarnation as an urban farm, the TGE site was a nursery that offered training and job skills programs for residents.
In 2008, Ng recognized that residents in the community, designated as a food desert, struggled with obtaining access to healthy food and produce.
In addition to offering access to low cost and locally grown produce, TGE also provides community members with outdoor green space for recreation, classes in health education, and a jobs and skills training program to empower young and old residents alike.
The TGE urban farm, where over 90 resident participants have been trained in landscaping and gardening, grows around 100 different crops throughout the year, practices energy and resource conservation, and utilizes drip irrigation and aquaponics systems that conserve water and space, says Carpenter. 
With assistance from the California Green Jobs Corps Initiative and the Summer Youth Employment Training Program, TGE has also helped over 75 youth in the community obtain their first paid employment experiences.
TGE is supported by grants also sustains through a number of different means including a Community Supported Agriculture (CSA) in which it sells produce subscriptions to community members and residents at an affordable price. Other financial support comes from a small Housing Authority budget, Carpenter says. The Housing Authority also hosts an annual farm to table dinner fundraiser in partnership with Primal Alchemy Catering, which spearheads the event and recruits local chefs to transform farm fresh produce into a 10 to 12 course meal.
TGE also sells it produce direct to local businesses, including Rainbow Juices, in downtown Long Beach. The juicery is the farm's number one purchaser of watercress, Carpenter says. Other businesses that use locally sourced produce from TGE include Panxa Cocina restaurant and the Long Beach Creamery.
In reducing blight, increasing access to fresh food, arming residents with practical jobs skills and training, TGE helps to demonstrate the potential for urban agriculture to transform a food desert into a community and economy development juggernaut.
"This land could have been a vacant lot that attracted vandalism," says  Carpenter, program. "Instead, it is a community resource, [involving] local vendors, catering companies and other community organizations. We are providing access, at an affordable level, to healthy produce for people on the path to self sufficiency."
---
If you are going to be in the Southern California area, the Seedstock 'Future of Food – Urban Ag Field Trip' will be visiting the garden on January 27, 2017 as part of its tour. Learn more and register here: http://seedstockurbanag.eventbrite.com
Categories