Urban Farmers at Forefront of Local Agriculture Movement in Riverside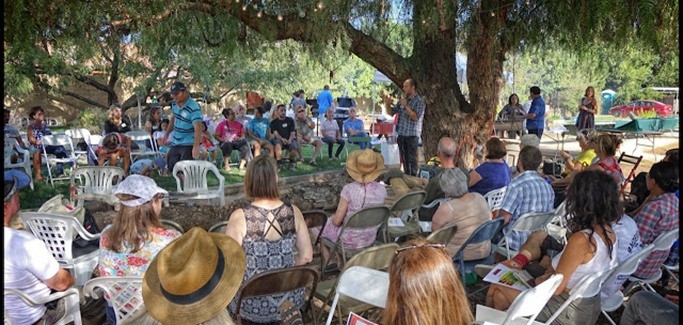 January 25, 2016 | Laura Hurst
Scott Berndt first moved to California to start a career in hotel and restaurant management. But having spent his childhood on a farm in South Dakota and hailing from a multi-generation family of farmers, he soon embarked on a side project: growing tomatoes.
In the early days of Fox Farm, Scott Berndt packed 300 tomato plants into his backyard in Riverside, CA, seeding them and then selling the young plants at an annual plant sale.
In 2014, Berndt's real estate agent visited his home and asked about the crop of plants in the backyard. When Berndt told her what he was doing, and that he wished for more space, she offered the two and a half acres behind her home as a growing plot, so long as he did not use chemicals or toxins. Since Berndt was already using organic methods, and continued doing so with the flowers he cultivated on her land, it was a perfect fit. A year later, he converted an unused horse corral as additional growing space for vegetables, and Fox Farm was born.
Berndt's story is reflective of the burgeoning urban agriculture scene in Riverside. He notes that the city's urban farmers are diverse in age, race and background, but "the underlying common denominator is that they want to get back to growing food and taking a stand against the large factory farms which produce a majority of our food."
Riverside has a long agricultural history, and because of this, urban farmers today are "blessed with plenty of agricultural land," according to Berndt. The Arlington Heights neighborhood is commonly known as the "Greenbelt" due to its history of citrus tree groves.
For many urban farmers, finding land to grow food presents one challenging task, and finding a place to sell the food is another. Fortunately, the city of Riverside has done substantial work to support local farmers with resources, and has helped facilitate development of a community.
The city has hosted the GrowRIVERSIDE conference for the past several years. At the 2015 conference, the opening film featured Fox Farm, giving Berndt a publicity boost and allowing him to forge a relationship with the local school district and its program sourcing local produce for school lunches. Berndt says that GrowRIVERSIDE also provides a space for local farmers to meet and to exchange best practices and advice.
Besides hosting the annual conference, Riverside's Community and Economic Development Department supports initiatives such as Green Riverside, which protects agricultural land, promotes replanting of citrus groves and offers incentives for water conservation.
The newly formed Riverside Food System Alliance, a coalition of diverse stakeholders is also working to strengthen local food systems.
Berndt serves on the board of the Riverside Food Cooperative, another organization working to bridge the gap between consumers and producers. The cooperative hopes to open a store selling only locally grown produce, providing small farmers with an outlet to sell their crops, since they often cannot meet the supply demands of large grocers.
Berndt is still working full-time as a restaurant manager. He would like to commit to farming entirely, but doing so requires time, space and a steady clientele to run a profitable farm.
He sells produce—seasonal vegetables such as cabbage, beets, and kale—to local restaurant owners. However, the restaurants cannot currently cover their entire menus with small farmers' yields, and must supplement procurement with produce from large-scale producers.
Berndt aims to ameliorate this problem: he recently built a cooler to store fruits and vegetables with funds from a Kiva Zip loan and the contribution of local friends and community members. With the cooler, he will be able to buy produce from other small farms to provide a better selection to restaurants.
Innovation continues past the supply chain. Given Fox Farm's small size and its Californian climate, subject to frequent droughts, Berndt implements sustainable growing methods to maximize efficiency. He grows intensively, putting many plants in each row to create small microenvironments. The compost he uses keeps weeds down and helps to retain moisture in the soil.
He also uses drip irrigation, which only uses two gallons an hour per 50 feet of lines with three drip lines per row. He has 21 rows amounting to 42 gallons per hour.
"Considering the average shower is 17 to 20 gallons, I can water my entire vegetable area in about what two people showering will use," Berndt says.
As residents and the city rally to support urban agriculture, Berndt believes the channels, resources and accessibility for farmers in the community will only improve.
"Luckily, we have a city that is very active in supporting local agriculture," says Berndt.
Categories