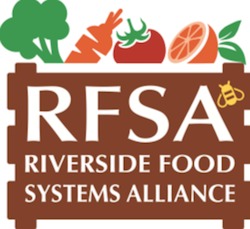 The Riverside Food Systems Alliance (RFSA) is a public-private partnership with members from the community, government, and businesses. The collaborative includes farmers, community gardeners, restauranteurs, food co-ops, health and hunger organizations, Riverside's Economic Development Department, health and ag agencies, individuals, and more.
If you have a passion for helping local food communities prosper, join one of our working groups:
1. Growing Food: Sustain a Vibrant Community of Farmers and Growers
2. Processing and Distribution Infrastructure: Farm to Fork
3. Food System Economic Strategy: Eat Riverside Grown
4. Educate, Inspire, and Sustain Demand
5. Access for All: Healthy Foods
To donate to the RFSA and its local food efforts, click here: http://bit.ly/1XIWaId
The advisory committee meets the first Thursday of each month from 3-5 PM.
To get involved as a collaborator, volunteer, or sponsor, please contact our volunteer executive director Seth Wilson at email hidden; JavaScript is required or Chair Gurumantra Khalsa at (951) 640-3868.
Riverside Food Systems Alliance (RFSA) is a newly formed organization that is working to create a Farm to Fork food system that makes healthy, local foods available for all, while drawing on Riverside's agricultural heritage. As a result of the the 2014 Grow Riverside Conference, the City of Riverside convened nearly 90 community stakeholders to draft a Food & Agriculture Action Plan, which was approved by Riverside City Council in May, 2015.
RFSA is currently being sponsored by the non-profit Community Partners, a tax-exempt organization. (Your sponsorship may be deductible as a charitable contribution. Please consult with your tax advisor.)
To donate to the RFSA and its local food efforts, click here: http://bit.ly/1XIWaId
The RFSA Executive Board is made up of the following individuals:
Seth Wilson – Executive Director
Gurumantra Khalsa – RFSA Chair
Gayle Hoxter – RFSA Vice Chair
Susan Fahrney – RFSA Secretary
Sue Struthers – RFSA Treasurer
To donate to the RFSA and its local food efforts, click here: http://bit.ly/1XIWaId
Links: