Looking forward, Riverside Food Systems Alliance Sets Eyes on Education, Health, and Local Food in the Region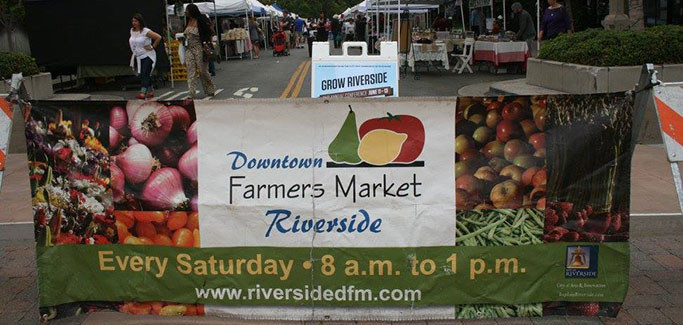 January 19, 2016 | AJ Hughes
The Riverside Food Systems Alliance (RFSA), a public-private partnership with members from the community, government, and business sector works to grow a resilient and productive local food and agricultural system in the greater Riverside, CA region. The organization, which has been around for a little over a year continues to trace and mark its progress by looking back, and forward, to annual GrowRIVERSIDE conferences.

In 2014, the year of the first GrowRIVERSIDE event, consultant and former Seattle City Councilman Richard Conlin helped the group get established. With an original focus on Riverside's Greenbelt, Conlin assisted in hammering out goals that would positively impact the community. These goals include sustainable agriculture and its economic viability in and near Riverside, California; agricultural economic development and infrastructure; education about food and agriculture; equitable access to healthy foods; and public health.
Shortly after the 2015 GrowRIVERSIDE conference, the RFSA formed a five-member board and an advisory board of more than 20 members. The organization also became a nonprofit with official 501(c)(3) status, hired a new executive director and secured a fiscal sponsor—Community Partners.
Now, RFSA is a crucial player in helping to plan for the 3rd Annual GrowRIVERSIDE Conference: Cultivating the Future, set for March 21-22, 2016 at the University of California, Riverside. The organization will assist in setting the agenda for the gathering.
One of RFSA's most important decisions during the past year, according to executive director Seth Wilson, was the decision to secure Community Partners as a fiscal sponsor. Based in Los Angeles, Community Partners helps nonprofit organizations deal with administrative issues and red tape, which in turn lets the organization focus on its core mission.
"Do we keep this as a city initiative or form a nonprofit that sits outside the city?" This was a critical question, as described by Wilson. "We chose the latter."
The main impetus for this decision, Wilson says, was the ability of a fiscal sponsor to empower the RFSA to key in on its objectives regarding local food and agriculture in the Riverside area, rather than the nonprofit having to keep busy with mundane organizational tasks.
Community Partners, which is also a fiscal sponsor of the Los Angeles Food Policy Council, provides support services to nonprofits, such as insurance.
Now, RFSA is focused on doing what is necessary for sustained success.
"Fundraising is a critical piece. We're in the process of doing that."
While raising money is required, it's not part of RFSA's core vision. Looking forward, the alliance has its eye toward education and outreach, connecting food issues with health, and a strong emphasis on local foods.
"We recently received a grant to produce a city guide on what's local—hopefully it will be out in spring," says Wilson. "We've had good conversations with folks who are working in the community in and around Riverside that are food deserts. We're working with the city on policies on healthy food vending and purchasing."
Joyce Jong, a farmer, RFSA board member and agricultural business development coordinator with the City of Riverside, points to RFSA's strong partnerships, which include the Riverside Unified School District and Kaiser Permanente. According to Jong, RFSA would not be where it is today without these partners and other supporters.
"Many local organizations are stakeholders," she says.
RFSA's long-term vision, says Wilson, includes expanding processing capacity, building the number of long-term stakeholders, increasing community capacity, improving education, and growing food access for all (especially in underserved communities).
For all of this to take place in Riverside County is especially important, given the area's capacity for agricultural production.
"Riverside County has more land to grow than any other area in Southern California," Wilson says.
He also believes that RFSA could indirectly assist in improving environmental quality.
"Given the state's commitment to greenhouse gas reductions, urban food systems could help in this."
Finally, Wilson is encouraged that RFSA is not a solo player in its quest, as numerous other initiatives have sprung up all over the region.
"In Southern California, there are six or so food policy councils," he says. "We network with them—we feel like we're not alone."
This article was originally published on Seedstock.com: http://seedstock.com/2016/01/18/riverside-food-systems-alliance-moves-forward-with-nonprofit-status-fiscal-sponsor/
Categories