To Grow Movement, Riverside Chef Makes 100 Percent Fresh, Local Produce Menu's Main Event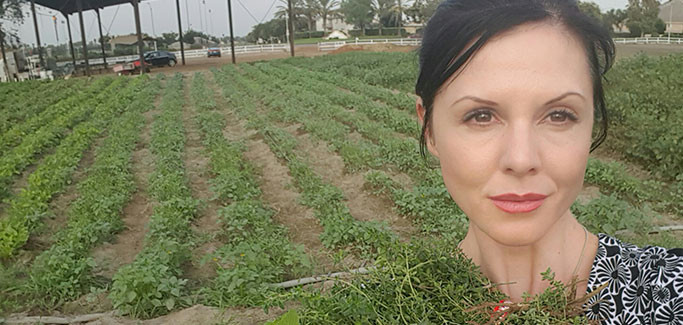 February 10, 2016 | AJ Hughes
For some, the word "local" can be ambiguous. But Health's Kitchen restaurant in Riverside, California, has strict rules regarding where it obtains its produce. Ideally, it must come from farms located in the City of Riverside, and when this isn't possible, only Riverside County farms will suffice.
"Fresh produce is the main event on the menu," says Health's Kitchen co-owner Robin Meadows. "There are a few restaurants that obtain some of their food locally, but we get 100 percent of our produce from local farmers."
Ninety percent of Health's Kitchen's produce is from the City of Riverside, with the remaining 10 percent coming from Riverside County. The restaurant's menu is a diverse array of entrees, soups, salads, sandwiches and even breakfast.
The menu also offers several meat offerings, including chicken, steak and salmon. Currently, the restaurant does not procure meat locally to the extent Meadows would like, although it all comes from southern California. Due to regulations, Health's Kitchen is not able to butcher onsite, but she emphasizes that all of the meat is free-range and never frozen, and contains no hormones.
"We're part of a movement that's growing," says Meadows, who gives much credit to GrowRIVERSIDE and the growing local food and agriculture scene in Riverside for the restaurant's success. She's grateful to the Riverside Office of Economic Development for its support.
She is also a member of the Riverside Food Systems Alliance and says she has benefited from numerous relationships formed with people she met through this group (including valuable relationships with farmers in Riverside and Riverside County). She also sees how much the City of Riverside is committed to local and sustainable agriculture.
"We appreciate all of the support from the city," she says.
Meadows is a holistic nutritionist and certified nutritional health coach, and firmly believes in the health benefits of eating locally-produced food. After an experience working as a private chef for those who want to eat healthier, she decided to open a restaurant of her own—one that would focus on local, seasonal and healthy food.
"If you're eating locally, you're eating in season. If you're eating in season, it's always nutritious," she says, emphasizing the importance of consuming vine-ripened produce, sans chemicals and with nutrition intact. "And it supports the local economy."
Since Health's Kitchen opened its doors on July 1, 2015, it has experienced success, but not without some struggle. The recent drought has not helped.
"In the summer, there are not many lettuces to be found," says Meadows. "Heat can ruin things."
But she points to this challenge as yet another example of the importance of serving seasonal foods. While other restaurants may have decided to bring in lettuce shipped in from miles away, Meadows never even considered this.
"If we don't have something, it's because it's not in season," she says.
Meadows also cites insect issues, which can be a major problem since Health's Kitchen serves only organically-grown produce (not necessarily certified-organic, but produced raise with adherence to organic practices).
Despite these obstacles, Health's Kitchen has prospered from day one. In its first two months of operation, the restaurant nearly broke even. Meadows says the business enjoyed its best month in January.
Meadows and her partner Joseph Giuliano have many goals, including farming a plot of land dedicated to growing produce for Health's Kitchen (including heirloom varieties to make menu items more unique), and starting a second restaurant in downtown Riverside. Its current location is right off California State Route 91.
Ironically, Meadows views her newness to the restaurant industry and naiveté as an asset.
"Statistics says the farm-to-table type of restaurant is the most difficult to run," she says. "But I did not know any better. Ignorance is bliss—we're making it happen."
This article was originally published on Seedstock.com: http://seedstock.com/2016/02/10/californias-healths-kitchen-serves-hyperlocally-sourced-food/
Categories