GrowRIVERSIDE: A Movement Rooted in Community Seeks to Foster Hardy Local Food System in City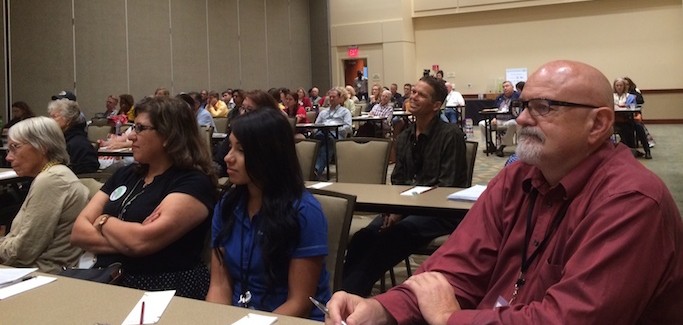 June 15, 2015 | AJ Hughes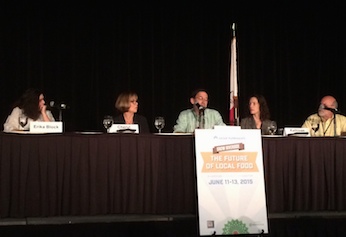 At the 2nd Annual GrowRIVERSIDE Conference: The Future of Local Food, held last Thursday, June 11 through Saturday, June 13 participants from panelists to keynotes and breakout session leaders repeatedly honed in on the same key ingredient when discussing the development of robust local food systems: community.
And true to this theme, the first day of the conference ended fittingly as conveners partook of local food and beverages amidst an orange grove. Robert Egger, founder and president of L.A. Kitchen, spoke about how fresh fruits and vegetables not only build community, but change lives as well.
True community tends to grow and attract others to its orbit, and GrowRIVERSIDE is no exception, said Al Zelinka, Assistant City Manager for the City of Riverside.
"This is a movement rooted in community and entrepreneurship," said Zelinka, noting that people came from as far away from Hawaii and east of the Mississippi to attend the event. "A small group of thoughtful and committed citizens can change the world," he continued, paraphrasing anthropologist Margaret Mead.
In the case of GrowRIVERSIDE, Zelinka is impressed at how the community has been and continues to be catalyzed over the importance of local food.
"Citizens and organizations from all sectors are coming together to talk about a variety of things," he said. "It's the very simple idea of people connecting with one another. People are not protecting their turf—rather, they are unleashing a new food development infrastructure."
Zelinka compared the pioneering work of Cesar Chavez (there is a statue of Chavez in downtown Riverside) in making farm labor more just and equitable to the GrowRIVERSIDE movement.
"The people who give you their food give you their heart," he said, quoting Chavez.
Prominent author and local food and agriculture activist Mark Winne continued to set the tone in driving home the importance of community and how it relates to local foods.
"Local food is an attempt to bring about self-reliance in a community," he said. "This is why local food and farming are such big deals these days."
But, Winne warned, it takes much more than a feel-good sense of cohesive community to truly transform systems. For real change to take place, effective public policy is needed. And much work is left to be done, as much of the food industry opposes regulations, food insecurity rates in the United States are still high – close to 50 million Americans are on food stamps – and distribution of food from food banks continues to grow.
While both community and public policy are needed to spur change, Riverside has a healthy dose of both. Indeed, public policy efforts have grown out of community, as the Riverside Food Systems Alliance came together and formed an action plan, which Winne lauded.
"Riverside's food policy action plan has set the stage for you to take a great leap forward," he said.
But Winne urged people at the GrowRIVERSIDE conference to keep striving, as there is still much to be done.
"Riverside, you need to go bigger, you need to go bolder, and you need to be bodacious," he said. "Expand your agenda to focus on a broader range of issues related to food."
In Winne's mind, chief among these broader issues is inequality. He cited statistics that show 52 percent of fast food workers receive some form of public assistance. "Local food needs to work for economic justice," he said. "If we don't work those edges, they won't grow."
Winne concluded his talk by urging people in the local food movement to spread contagious joy to bring others along to join in the work. "You know the risks, but you know the joys. Free up that hope—find more voices to join yours."
Numerous other speakers presented at the conference, including Rishi Kumar, founder of The Growing Home, and Hop Hopkins, co-founder of Panther Ridge Farm. The pair spoke about developing urban farms that benefit both city and community.
"Farming is tied to community, people and ecology; people make all sorts of bad decisions when they don't understand nature."
Part of the disconnect between nature and urban life in many cities is the abundance of vacant lots, which results in wasted space and blight. Last year, Kumar and his associates at The Growing Home were able to secure a vacant lot in Pomona, California, now home to Sarvodaya Farms. When they first got the land, it had poor soil and required considerable effort to make it productive again.
But thanks to wood chips, horse-stable bedding and an abundance of compost, Kumar and others were able to breathe new life into the vacant lot.
"Within six months, we were growing several thousand pounds of food," Kumar said. "It was a beautiful renewal of life in this place."
It took community work to change this piece of land, which is now attracting community consisting not only of humans, but also bees and butterflies, and even a family of cats that do its part by eating the gophers.
"The community is really coming together around this farm," said Kumar, noting that Pomona is a low-income city with residents eager to learn about how to grow their own food. "We need to give them the space and opportunity to learn."
Other speakers that spoke at GrowRIVERSIDE included Riverside Mayor Rusty Bailey; City of Riverside Councilmember Chris Mac Arthur; Seedstock co-founder Robert Puro; Vita Willett, executive director of Kaiser Permanente for the Riverside area; Cheryl Garner, executive director of Dining, Conference and Catering Services at the University of California, Riverside; Bob Knight, founder of Inland Orange Conservancy and Old Grove Farm Share; Kathleen Reed, Kaiser Permanente sustainable food program manager; Dwight Detter, local forager for Whole Foods Market; Ericka Block, founder of Local Orbit; Rebecca Hoggarth of the San Bernardino Food Policy Council; Gail Egenes, executive director of the Riverside Land Conservancy; Elvis Cordova, USDA deputy undersecretary for marketing and regulatory programs; Leah Di Bernardo, chef and founder of E.A.T. Marketplace; Don Webber, partner at Cultivating Good and owner of Harvest 2U; Pierre Sleiman, founder and CEO of Go Green Agriculture; Gene Giacomelli, director of the Controlled Environment Agriculture Center at the University of Arizona; David Rosenstein, executive director at OurFoods; Jim Bergantz, sales engineer at Agra Tech; Tracy L. Kahn, principal museum scientist at the University of California, Riverside Citrus Variety Collection; Giovanni Cavaletto, vice president of sourcing for Index Fresh; permaculture specialist Daniel Francis; Margaret Barth, nutrition and food sciences program director at California Baptist University; Robert Tse, state broadband coordinator for USDA California Rural Development; A.G. Kawamura, former secretary of the California Department of Food and Agriculture; and Joyce Jong, agricultural business development coordinator for the City of Riverside.
At the end of a day rich with community and connections, an employee at the hotel adjacent to the Riverside Convention Center, the site of the conference, noticed the excitement generated from GrowRIVERSIDE and kept asking questions about agriculture and how he could get involved. A  man from inner-city Los Angeles, he expressed a desire to enter the ever-growing folds of the GrowRIVERSIDE community. Just one example among many of how a movement centered on food is ultimately centered on people.
If you're looking for more information on the 2016 3rd Annual GrowRIVERSIDE Conference: Cultivating the Future, you can find out more about the program here and register here!
Categories