What is the Future of Local Food in Riverside and Beyond?
May 11, 2015 | Robert Puro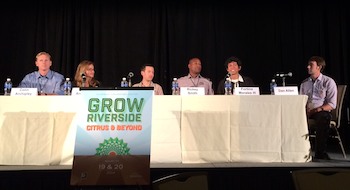 To help answer this question and explore solutions to create a vibrant marketplace for local agriculture in Riverside and cities and counties across the country, please join us at The Riverside Convention Center on June 11-12 for the 2nd Annual GrowRIVERSIDE Conference: The Future of Local Food with Community Day on June 13.
What are the objectives of GrowRIVERSIDE?
To create a vibrant local food marketplace in which a greater percentage of the food available in restaurants, supermarkets, schools, hospitals and other institutions comes from local growers;
To develop an infrastructure of local food production, distribution and marketing that generates new jobs and benefits the community and local economy
To aid aspiring farmers and entrepreneurs leverage agricultural assets to grow businesses that benefit the local economy and community;
To insure access to healthy local food for all
Register here: http://growriverside.eventbrite.com
Who will be there?
Experts in local food business creation; water management professionals to address growing in a drought; practitioners in food marketing and distribution; farmers adept in growing profitably on small plots of land; community food access experts; and more!
Featured Keynote Speakers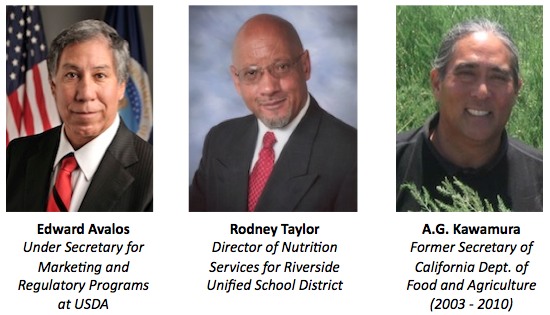 Register here: http://growriverside.eventbrite.com
Additional Confirmed Speakers
Kathleen Reed – Sustainable Food Program Manager for Kaiser Permanente
Justin Scott-Coe – Public Affairs Director for Monte Vista Water District
Mark Winne – Co-founder of the Connecticut Food Policy Council
Fortino Morales III – UC Riverside Community Garden Coordinator
Tracy Kahn – Curator of the UCR Citrus Variety Collection
Celeste Cantu – General Manager at Santa Ana Watershed Project Authority (SAWPA)
Ramiro Lobo – UCCE Small Farms & Agricultural Economics Advisor
Gene Giacomelli – Director of the Controlled Environment Agriculture Center (CEAC) at University of Arizona
Robert Egger – Founder and President of L.A. Kitchen
Dwight Detter – Local Forager for Whole Foods Market
Viviana Franco – Executive Director of From Lot To Spot
Robert Tse – State Broadband Coordinator for USDA CA Rural Development
Erika Block – Local Orbit
Bob Knight – Founder of Inland Orange Conservancy and Old Grove Orange, Inc.
Pierre Sleiman – Founder of Go Green Agriculture
… And more!
Register here: http://growriverside.eventbrite.com
More information on the conference: http://growriverside.com
Categories