No Green Without Blue: Riverside, CA Public Utility Emphasizes Water Conservation in Urban Ag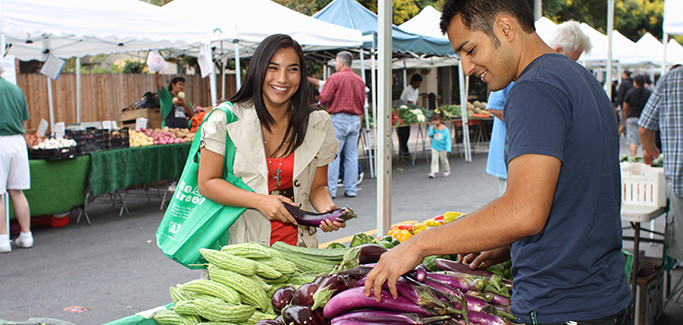 April 2, 2015 | seedstock
The City of Riverside, California is committed to being green, but city officials know that in order to do this, Riverside must also be blue.
And with yesterday's announcement of the state's first-ever water restriction, it's fair to say the city is ahead of the curve.
In this spirit, Riverside is engaged in two related and synergistic initiatives, Green Riverside and Blue Riverside.
Green Riverside was born when a group of businesspeople in the city created a strategy for growth in Riverside. This strategy revolves around environmental innovation and sustainability that includes all city entities, including government, business and residents.
Spearheading this effort is Riverside Public Utilities (RPU), with an emphasis placed on limiting water usage and utilizing solar power. RPU also has given thousands of shade trees for residents to plant in their yards.
Measures include restrictions on outdoor watering and washing cars, and incentives for residents and business to have their lawns removed and replaced with something more sustainable than grass.
But Riverside does not comprise only urban areas—the city and county (Riverside County) are both rich agriculturally, especially in citrus. Preserving a viable agricultural future is a key objective of both Blue and Green Riverside.
"We support agriculture in the city," says Ryan Bullard, an RPU sustainability officer. "It represents Riverside's heritage and past."
Riverside has two unique advantages, according to Bullard. RPU is a municipal utility, owned by its customers. And Riverside's water supply is 100 percent sourced from local groundwater, resulting in Riverside residents (including growers) enjoying access to cheaper water than other Southern California communities. RPU serves almost 70 percent of Riverside, including its agriculture-heavy Greenbelt.
"That's the biggest thing, the low agricultural water rate that is available," Bullard says.
Tools used to fight the drought run the gamut, says Bullard, who cites the city's turf removal program, which removed 60,000 square feet a year ago and 1.2 million square feet so far this year.
Measure are working, Bullard believes, as per capita water usage in Riverside has been drastically reduced.
Both the city and RPU, through Blue and Green Riverside, collaborate with and support GrowRIVERSIDE, says Erin Gettis, a principal planner with the City of Riverside. Two main goals are reduction of water usage and greenhouse gases.
Gettis knows the important role that agriculture plays in the vitality of the city, and says that it's important to educate residents about the necessity of preserving a future for agriculture in Riverside.
"The key is to gain support of the community in the growing of agriculture," she says.
She referred to Riverside's Measure L, which was defeated at the polls last year. The measure would have paved the way for a Las Vegas developer to build homes in the La Sierra Lands area.
"Lots of people are development-minded, but the community reacted against this," Gettis says.
As a planner, Gettis knows that development is inevitable, and she knows how important it is for Riverside's agriculture industry to remain viable.
"In five years, I hope there is more demand to buy and sell locally in Riverside," Gettis says, noting that currently most of Riverside County's citrus crop is shipped out of the country.
She laments that since the 1970s, Riverside's Greenbelt has lost half its land devoted to agricultural production. But hope abounds, she believes, since an agricultural water supply still exists in the city, thanks to groundwater. It is her wish that the efforts of Blue Riverside will help make the most of this supply of water.
In addition to the work of Blue and Green Riverside, Gettis says the city is involved with the Riverside Food Systems Alliance and various community gardens programs. Numerous area events and festivals have agriculture as their centerpiece, and Gettis is excited to see new farmers emerging.
"I want to see a local food economy," she says. "I would like to see local food become a common phrase."
"Riverside is a pioneer in investment in sustainability and promotion of agricultural systems," she says. "We even have it better than Los Angeles. Los Angeles has interest and policy, we have land."
It's the aim of Blue and Green Riverside to protect, preserve and enhance that land.
Categories