Vista, California-based Solutions Farms Combats Family Homelessness with Aquaponics Training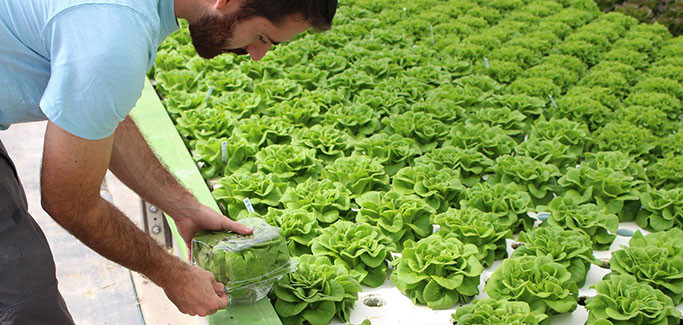 January 10, 2016 | Trish Popovitch
In addressing homelessness with an aquaponics training program, Solutions Farms provides an opportunity for families to regain not only their financial footing and place in the community, but also their security and happiness. Solution Farms is a program that was created by Solutions for Change, a Vista, California-based nonprofit established in 1999 to address local family homelessness in innovative ways.
Kevin Gorham is the aquaponics specialist at Solution Farms. He came to the initiative with little experience, but plenty of enthusiasm.
"I heard about this place being built, so I drove over here and introduced myself. I just kept bothering them and telling them I'd like a job here. Once the system was up and going, they hired me to stay on and help manage and run it," says Gorham. "I learned a lot more through my hands-on experience working here over the last three years."
Since its inception, the farm has become a place to teach job skills for those reentering the workforce, an education center for local students and a source of fresh, organically certified and aquaponically grown produce.
The farm grows seasonal herbs and vegetables as well as tilapia, and harvests the bulk of its produce early in the week. Much of that crop gets delivered to the local school district.
"They are paying us a little more for the product than they would if they got it through their main distributor, but they get a local product, they get it organic, and they get it super-fresh," says Gorham. "We also do things like go to the school district and give presentations. We'll bring small aquaponic systems so the kids can learn about aquaponics. We also open up our farm for field trips to bolster that relationship."
Through an arrangement with Dry Dock Fish, the tilapia is sold at 27 farmers' markets around the region.
An avid student and practitioner of aquaponics, Gorham is excited to put his experience and research into a $1 million dollar grant awarded to Solution Farms in April for the expansion of their aquaponics facilities. The grant, awarded by San Diego-based Alliance Healthcare Foundation's Innovative Initiative, targets innovative approaches to community wellness.
"In our build-out we're going to do things like oversizing the filtration to give us greater control of the water chemistry. We're exploring NFT systems instead of deep water culture for energy savings, and we're making some logistical improvements," says Gorham. "We are hoping to be in construction in October. Hopefully, we're finished by the start of 2016."
The new facility will be a reflection of the lessons Gorham and his team have learned since they set up the first system three years ago.
"We're considering switching to a fish that would like a slightly lower water temperature because at the temperature of the water the tilapia like, the plants are susceptible to disease," says Gorham. "It takes a lot of energy to heat the water for the tilapia. With our expansion, if we didn't have to heat the water as warm that would significantly lower the heating cost."
Both sturgeon and koi are possible substitutes for the tilapia. "Eight years from now we could have the first aquaponic caviar," says Gorham.
Gorham encounters a lot of people considering a commercial aquaponics business.
"People confuse growing aquaponically and growing commercially. Commercial farming is difficult. It requires a lot, and it's got more variables," says Gorham. "When people come in and say I want to build an aquaponic farm, I say why? Not that I want to dissuade them, but I want to make sure that based on their desires that's the best option, and in most cases, I don't think is."
According to Gorham, finding funding sources for aquaponic businesses is tough.
"People like to fund proven models. Once somebody proves that we can make a lot of money, and this is how, then that will spread and it will continue to grow," says Gorham.
Solutions Farms is certified organic. Gorham feels a lot more aquaponics-based businesses should consider this as a value-adding option.
"There's a lot of misinformation out there about this topic in general. The reality is so long as we obey the rules put forth in the organic program, and we satisfy all their requirements, we can be certified organic," says Gorham. "We had to be careful when we built the system about what we would put in it and what materials we used to build it, but it's not that hard."
According to Gorham, the world of aquaponics is still growing, and it may be a few years before the idea gains widespread appeal.
"It's easier just to deal with the plants through a purely hydroponic system. It's also easier just to deal with the fish in a pure aquaculture system," says Gorham. "But I think we'll see more and more in the future."
This post originally appeared on Seedstock.com:
Categories