Limited Tix Remain for June 11 Citrus Circle Farm-to-Table Dinner; Reserve your spot now!
May 21, 2015 | Robert Puro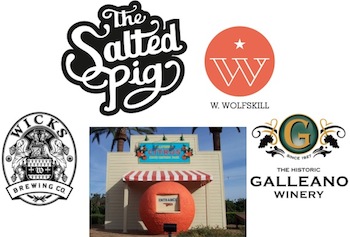 If you missed the first two "Dinners in the Grove", don't fret. The Citrus Circle Dinner on Thursday, June 11 in association with the upcoming GrowRIVERSIDE Conference promises a divine local farm-to-table dining experience. There are still a few tickets left, so grab yours now!
The dinner will take place in the Sunkist Center at California Citrus State Historic Park and feature a farm-to-table dining experience from sponsor The Salted Pig featuring food and drinks concocted and cooked up using local Riverside ingredients, including citrus from nearby groves. The dinner will also feature beer from sponsor Wicks Brewing Company and wine from Galleano Winery. There will also be a live band.
The dinner will also feature a keynote address from Robert Egger, the Founder and President of L.A. Kitchen, which recovers fresh fruits and vegetables to fuel a culinary arts job training program for men and women coming out of foster care and older men and women returning from incarceration. L.A. Kitchen is currently holding a pilot program at St. Vincent Meals on Wheels, and will move into its own kitchen facility in 2015.
Robert pioneered this model during his 24 year tenure as the President of the DC Central Kitchen, the country's first "community kitchen", where food donated by hospitality businesses and farms is used to fuel a nationally recognized culinary arts job training program. Since opening in 1989, the Kitchen (which is a $10 million a year, self-sustaining, social enterprise) has produced over 26 million meals and helped 1,000 men and women gain full time employment.
Seats are limited for the dinner, so register now to reserve your spot for a special night to support GrowRIVERSIDE and celebrate local food and citrus in Riverside.
If you're looking for more information on the 2016 3rd Annual GrowRIVERSIDE Conference: Cultivating the Future on March 21 – 22, you can find out more about the program here and register here!
Categories