From Teacher to Farmer: Born and Raised Riversider Revives Family Grove, Profits from Diversification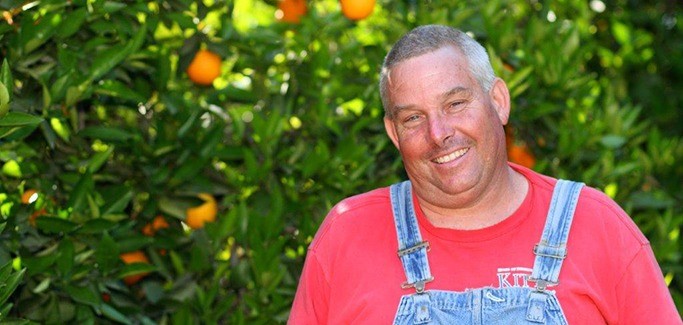 February 5, 2016 | Anne Craig
When the recession eliminated Brian Griffith's teaching job of 22 years, he wasn't sure at first just what he'd do next.
"It was a difficult time," he says. "That same year, my dad was diagnosed with Alzheimer's."
His parents lived on a two-acre property in Riverside, California.
"There was a citrus grove there and they didn't care for it much or pay much attention to it," he says. "Navel oranges had been really overplanted in Riverside at one time, and there was almost no money in growing a small quantity of them if you were selling them through the packing houses."
At loose ends and on unemployment, he decided to try to sell some of the fruit the grove produced at a farmers' market.
"My first market, I made $40. I was so excited!" he laughs. "I figured if I could just do that seven days a week, I'd make what I was earning as a teacher."
Griffith discovered that he had a knack for selling fruit.
"I'd get out there in the middle of the aisle in my hat and overalls, giving away free samples, and customers loved it," he says. "They loved meeting the grower in person. Across the aisle there's a big grower's stand, and he'd have a bored 15 year old sitting there playing on his cell phone. I loved seeing that, 'cause I knew I was gonna clean his clock before the day was through."
Before long, Griffith Family Farms was in ten different markets and Griffith had gone from being unemployed to job creator; and he found himself deeply involved in an urban agriculture movement through Riverside Food Systems Alliance, an organization working to keep fresh local food a reality despite development pressures in the city.
He's never been busier.
"There's so much to it, so many details," he says. "We're out of bags at one place; it's time to re-certify the scales and one has a dead battery; we've got to get two trucks loaded tonight. There's a million little details constantly running through my head," he says. "And I love it. It's great."
Besides working his own grove with his vintage 1937 Ford tractor, Griffith collaborates with other farmers and landowners in the effort to preserve the growing land that remains.
"I'm an advocate for finding the money in keeping it green," he says. "I helped save a 10-acre Valencia grove last year [and] found a way to put some money in the owner's pocket. I convinced my next door neighbor to let us farm his 2.5-acre plot, and then the neighbor next to him joined in."
The future of Riverside's agriculture, says Griffith, lies in diversification.
"We can't all grow avocados. There are so many products that are profitable, so many things that grow well here. It just takes research, and the great thing about that is, we live in a multicultural society so you can talk to people from the Phillippines, Guatemala, Mexico…..we're growing Kabocha squash next year."
Along with Navel and Valencia oranges, Griffith grows lemons, avocados, pomegranates and persimmons, and harvests honey from his beehives.
"We're landlocked by sprawl, so we have trees stacked on trees — wherever there's a space, we plant stuff," he says. "We have so little waste it's phenomenal. It's a constant gamble, but we've been lucky and it's working. Customer service is number one — a great product, carried to the customer's car with a smile.
"I was born here. I want local, fresh food and farming as a way of life to happen for Riverside, and I'm excited to be part of what's going on."
This post was originally published on Seedstock.com: http://seedstock.com/2016/02/04/former-california-teacher-turns-to-farming-restores-family-orange-grove/
Categories