City of Riverside Displays Local Food Chops at Inaugural GrowRIVERSIDE "Dinner in the Grove"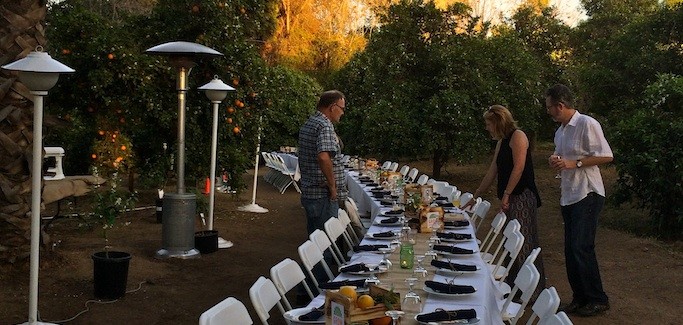 March 16, 2015 | seedstock
The City of Riverside's local food bounty was on full display at the inaugural GrowRIVERSIDE "Dinner in the Grove", which took place on Saturday, March 14. The over 70 people in attendance at the dinner from the Mayor of the City of Riverside to local businessmen, school teachers and administrators, growers and more were treated to a dinner created by The Salted Pig along with a desert featuring swiss chard and other locally sourced ingredients from à la minute, an ice cream parlor that used liquid nitrogen to freeze very small batches of ice cream right before attendees' eyes. Additional sponsors of the dinner included beer sponsor Packinghouse Brewing Co., coffee sponsor Torch Coffee, wine sponsor Ponte Winery and Fairlawn Farm.

Almost all of the food was sourced from within 40 miles of the City of Riverside and the bulk of the ingredients from wild nettle and pea shoots to lemons, oranges, fennel and chard were sourced directly from Fairlawn Farm, the farm at which the dinner took place.
The menu was as follows:
– Roasted New Potatoes
– Braised Nettle (sourced directly from Fairlawn Farm)
– Gonestraw Farms Chicken
– Cook's Ranch Pork Shoulder
– Sauteed Pea Greens (sourced directly from Fairlawn Farm)
– Shaved Fennel (sourced directly from Fairlawn Farm)
– Strawberry Swiss Chard Sorbet (Swiss Chard sourced directly from
Fairlawn Farm)
The GrowRIVERSIDE "Dinner in the Grove" is just one of many events designed to support the upcoming 2nd Annual GrowRIVERSIDE Conference (June 11 – 13) and to celebrate Riverside's citrus heritage and locally grown produce.
The next dinner will take place in approximately two months. So stay tuned to find out more!
Additional upcoming events include the GrowRIVERSIDE Community Gathering, an event open to the public that will feature a number of local Riverside entrepreneurs discussing their food businesses and the value and importance of local food to the City of Riverside. To register for this FREE event, follow this link: http://GrowRIVERSIDEgathering.eventbrite.com
And don't forget to register for the main event, the 2nd Annual GrowRIVERSIDE Conference on June 11 – 12 with Community Day on June 13!
Categories