2nd Annual Grow Riverside Conference to Focus on Future of Local Food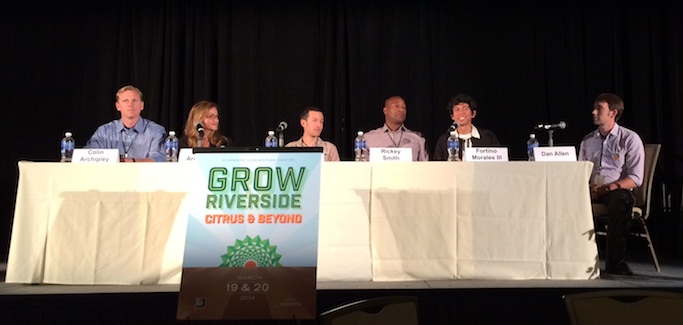 December 23, 2014 | seedstock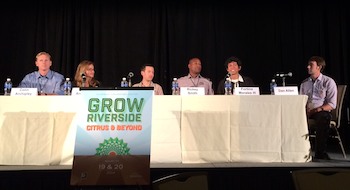 Following on the success of last year's inaugural Grow Riverside – Citrus and Beyond! Conference, which drew a sold out audience of over 420 entrepreneurs, residents, growers, business execs, non profit participants, researchers and students focused on propelling the growth of urban agriculture and the local food marketplace in cities across the country, Seedstock in partnership with the City and Community of Riverside is happy to announce that it will be hosting the 2nd Annual Grow Riverside Conference – The Future of Local Food.
Building off of the momentum of last year's conference as well as local food development and growth in the City of Riverside, the conference will explore solutions to help cities establish and bolster their local food system initiatives. Using the City of Riverside as a model, the program will look at the steps the City has taken to begin to build and strengthen its local food system.
Event Date: June 11 – 13, 2015
Location: Riverside Convention Center
Tickets: http://growriverside.eventbrite.com
Through keynotes, panels and breakout sessions, the conference will examine the development of solutions to increase local food production, encourage entrepreneurship, market and distribute local products more effectively, preserve and activate agricultural land, and engender food policy and health initiatives in order to further engage the citizens, growers, advocates, government officials and other major stakeholders around the economic opportunities that can result from increasing sustainable, local agriculture in cities.
2nd Annual Grow Riverside Conference (June 11 – 12)
Attendees will convene at the Riverside Convention Center in Riverside, CA for a series of panels and breakout sessions that will address the definition, economic impact, role, long-term benefits, challenges, and solutions associated with the development of a vigorous local food system. Conference presenters will explore the following:
The Value of Local Food to Cities
Effectively Marketing Local and Urban Agriculture
Local Value Chain Opportunities
Urban Farming Innovations and Opportunities
Indoor Agriculture from Hydroponics to Aquaponics
Business Planning Basics
…and more!
To inquire about scholarship tickets, email: email hidden; JavaScript is required
2nd Annual Citrus Circle Dinner – Thursday, June 11 from 6pm – 9pm
The 2nd Annual Citrus Circle Dinner will take place at the California Citrus State Historic Park and highlight local food in Riverside as well as feature networking, live music and a keynote presentation on the benefits of urban agriculture and building the local food marketplace.
2nd Annual Grow Riverside Conference – Community Day (June 13)

Intended for the citizens of Riverside, but open to all, Community Day will offer opportunities for farmers and Riverside residents to connect and help build our shared food future in a fun and collaborative hands on setting. Community Day will also offer a series of hands on workshops including:
How to grow food at home
Starting a Cottage Food Business
Water Saving Techniques
Pest Management that is kid friendly
CA native plants that WOW
… and more!
Early bird tickets available here: http://growriverside.eventbrite.com
Categories