Where Buffalo Roam, Vertical Growing Towers Rise to Propel Local Agriculture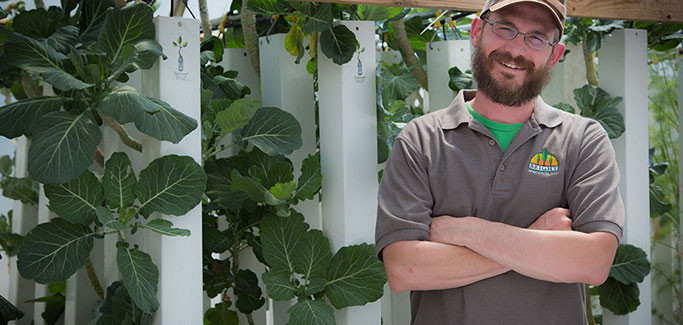 January 20, 2016 | Trish Popovitch
By focusing on building a quality product, encouraging community and supporting their farmer customers, Laramie, Wyoming-based Bright Agrotech looks to have a bright and busy future ahead of it.
The company has continued to grow since Seedstock first profiled them here in 2012, something CEO and founder Dr. Nate Storey attributes to the broad appeal of the company's mission.
"No matter if you're like the uber liberal kind of person on the left side of things, or a super conservative person on the right side of things, everyone can get on board with the idea that local production is better," says Storey. "Everyone can get on board with the idea that when we spend money in our communities, that money stays in our communities."
Storey began to have the first stirrings of what would eventually become Bright Agrotech when he was a student at the University of Wyoming. The program is well-known for turning out leaders in the farming and ranching fields, and Storey is no exception. He self-funded the startup while pursuing his Ph.D. in Agronomy.
Despite the farming focus, Bright Agrotech's team of 22 staffers are an eclectic mix of media, advertising, logistics, growing and customer service specialists. They even have a director of growth and happiness.
The company offers several services and product, including farm consulting and financial analysis. But they are best-known for their ZipGrow growing towers.
The ZipGrow system is comprised of food-safe plastic towers filled with growing media that replace the need for soil. The towers weigh eight pounds each and are engineered to be hung or set on any surface.
"Our towers are designed to put the user experience and the future experience in mind. When we developed the product, we weren't just trying to build another stacked pot technique," says Storey. "We wanted to create a design specifically for the unique growing variables inherent to vertical plane agriculture."
This year, Bright Agrotech was the featured company at the American Pavilion of the World's Fair. Held in Milan, the fair housed the world's largest food wall comprised entirely of ZipGrow towers. The opportunity was the result of persistence and a good product, according to Storey.
In a few months, Bright Agrotech hopes to add a free basic software program to their suite of user resources, to enable customers better use their ZipGrow Towers.
The close and continued relationship with customers after the initial sale of the ZipGrow towers has helped create a vibrant online community, according to Storey.
"We're certainly the largest farmers' network in the U.S. right now as far as engaged individuals because we are all growers. It's not just about a purchase for them. It's about ongoing support and building the network," says Storey.
ZipGrow towers are popular with commercial and residential farmers alike, and can be found in grocery stores as well as farmers' markets. A newer product, the Farm Wall, is meant to allow anyone to have a garden attached to the wall of their house. Storey hopes that one day, building owners and landlords will be paid to grow food in such systems.
For Storey, a large part of his job is ensuring his customers are getting the most out of his system and doing what's right for them when it comes to growing.
"We tell people we're very basically technique-agnostic. We're not pro-aquaponics or pro hydroponics; we're pro-farmer," says Storey. " To understand what technique will work best, you have to do a market analysis. So it's not a simple question to answer why folks should do aquaponics or hydroponics. We sit down, and we crunch the numbers, and we do a lot of work to find the answer to that question."
Despite only being three years old, Bright Agrotech enjoys approximately 10,000 customers across the United States and around the world.
"We triple in size pretty much every single year in our sales growth," says Storey. "Our indoor commercial build business has just gone gangbusters. We have as much business as we can handle, but we are trying."
This article was originally published on Seedstock.com: http://seedstock.com/2016/01/19/on-the-vertical-plane-where-the-buffalo-roam-bright-agrotech-builds-local-ag-in-laramie-wyoming/
Categories