Urban Ag Field Trip to Explore Innovative Farming Operations in L.A. County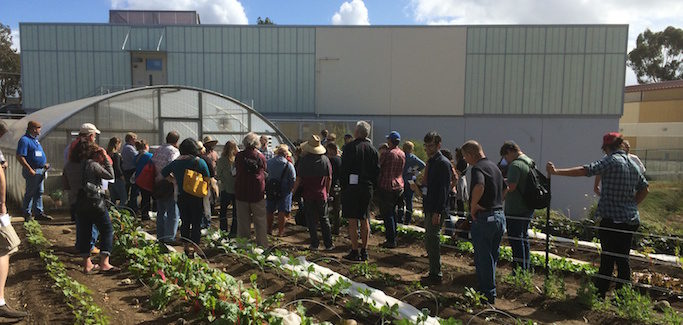 December 15, 2016 | Robert Puro
Urban agriculture ventures of all different stripes – from commercial hydroponic enterprises and rooftop aeroponic farms to community gardens planted atop formerly vacant lots – are not only disrupting the food system, but also generating community and economic capital.
To give you an up close and personal look at a series of innovative urban farming operations that have emerged to tackle challenges to food access, meet marketplace demand for local food, and increase food security, Seedstock has put together the 'Future of Food – Urban Ag Field Trip'.
Scheduled for Friday, January 27, 2017, the field trip will look at the impact of urban farming in Los Angeles County, the most populous county in the United States, and include lectures on such topics as the past, present, and future of urban agriculture, vertical farming, and sourcing local food from urban farms.
Spots on the field trip are limited, and it will sell out. So grab your Early Bird Tickets before it's too late!
Scheduled Field Trips Stops include:
The USC Teaching Garden is utilizing aeroponics to challenge the food systems status quo on campus. The University of Southern California (USC) Teaching Garden was established this spring to supply fresh produce to the university's on-campus restaurants, dining halls, catering services, and hotel, while also teaching students and staff about flavor and sustainability. The garden utilizes aeroponic towers to produce chemical-free fruit, vegetables, herbs, and edible flowers without traditional soil growing media.
Local Roots Farms is an indoor vertical farming company based in Los Angeles that designs, builds, deploys, and operates controlled environment farms. Situated in shipping containers, the farms (called TerraFarms) grow with up to 99% less water, 365 days a year, pesticide and herbicide free, and with absolute consistency in production. Their plug and play form provides an innovative solution to the retail and foodservice sectors by greatly reducing supply-chain risks such as price volatility and food safety exposure.
The Growing Experience (TGE) is a seven-acre urban farm in North Long Beach that is located on a previously vacant lot. TGE is unique in that it is owned and operated by the Housing Authority of the County of Los Angeles (HACoLA), which manages 3,229 units of public and other affordable housing for the county's Public Housing program. The urban farm utilizes traditional as well as aquaponics growing systems to help meet the needs of the community by increasing access to healthy foods.
Register Now for Early Bird Tickets!
Select Confirmed Speakers include:
Rachel Surls – Sustainable Food Systems Advisor for UC Cooperative Extension and co-author of the book 'From Cows to Concrete: The Rise and Fall of Farming in Los Angeles'.
Erik Oberholtzer – Co-founder and CEO of Tender Greens
Chef Eric Ernest – Executive Chef of USC Hospitality
A farm-to-fork lunch hosted by Local Roots Farms featuring lettuce grown on site in the company's TerraFarms will be provided by lunch sponsor:

Categories