UC Riverside Takes Active Role in Promoting Community and Local Food Systems at 'Grow Riverside' Conference
March 26, 2014 | Robert Puro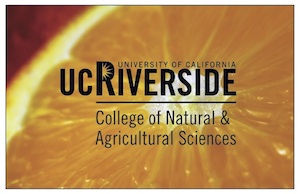 UC Riverside, a sponsor of last week's 'Grow Riverside: Citrus and Beyond' Conference, played a large role in shaping the conference proceedings and contributing concrete ideas and steps to help the City of Riverside develop local agriculture strategies and solutions to reconnect with its agricultural roots and foster a robust and sustainable local food future.
Fortino Morales III, Director of the UC Riverside Community Garden, a 3-acre community garden on UCR's campus, participated on the 'Local Ag Growth Strategies' panel on day one of the conference. The panel looked at the infrastructure needed to grow new farmers from educational programs and farmer training to incentives for entrepreneurs and more.
Morales III spoke about the UCR Community Garden as "an educational center" where "a lot of different students, staff and faculty have gotten involved [. . .] across disciplines." Morales III noted, "It's not just botany and plant sciences, it's business, it's poli-sci."
Morales III also spoke about what UC Riverside is doing to support the next generation of farmers. He said, "one thing is that they (UCs) passed in 2009 is a UC Sustainability Policy and in that policy they actually dedicate, or mandate . . . that every UC have 20% of their food budget go toward local, organic, sustainable food products. And so it's forcing them to really look at the community and what's around them and I think that's one thing that could be really great." About UCR's role in supporting local farmers, Morales III remarked, "There's 20,000 students on campus that they feed every couple of hours, so you can imagine the amount of food there and the market as well that is dedicated toward looking at supporting local food."
The entire panel featuring UC Riverside's Fortino Morales III can be watched here:
Professor Mark Hoddle, Biological Control Specialist and Principal Investigator at UC Riverside along with Dr. Tracy Kahn, Curator of the UC Riverside Citrus Variety, participated on the 'Citrus and Beyond!' panel on day two of the conference, which looked at the economic viability of continuing to grow citrus in the City of Riverside, and asked the question, "if not Citrus – the very fruit that is inextricably linked with Riverside's heritage and early economic growth – then what?"
Dr. Hoddle addressed the threat to Riverside citrus from Huanglongbing (HLB) and its spread via the Asian citrus psyllid; and what Riverside residents and orange growers need to do in order to reduce its impact.
Dr. Tracy Kahn discussed alternative citrus varieties that could enable Riverside growers to obtain economic viability. Dr. Kahn spoke about the new markets for citrus products arising as a result of the growing prevalence of specialty restaurants in the area as well as in Los Angeles County. She brought the Australian Finger Lime, which contains juice vesicles that "resemble caviar" and taste like lime. Dr. Kahn said, "A lot of chefs in L.A. are using this as a garnish." She noted that currently, "six ounces are going for $6 – $10." Dr. Kahn also brought Curry leaf, Bael fruit, Bhudda's hand and Valentine fruit, a hybrid of pummelo, mandarin and blood orange to demonstrate some alternate citrus varieties that could enable Riverside growers to tap into new markets.
Dr. Hoddle provided some background on the threat of Asian citrus psyllid in California and in Riverside. He explained that, "some estimates indicate that sweet oranges like the Valencias and Navels – they may have 5 – 8 years to live after they've been infected with the bacteria." Further, he remarked, "the disease is in California now. It was first detected in March 2012 in Hacienda Heights in Los Angeles County." He noted that, "our psyllid populations are incredibly high in L.A. County, Riverside and San Bernardino Counties. . . Basically wherever citrus is grown in California, it's going to be threatened by Asian citrus psyllid and the disease that it spreads."
Dr. Hoddle also discussed what UC Riverside has been working on to help insure the long-term viability of citrus in Riverside and beyond: "As part of what we're doing at UC Riverside, we're evaluating the insecticides that the growers like John [Gless] and Bob [Knight] need for the short-term to control this Asian citrus psyllid. Antibiotics are being looked at; they may not be a very viable long-term solution because of the difficulty of administering them to the plant and then we worry about antibiotic resistance," he said. He also discussed some of the biological controls that UC Riverside has been using to try to contain the disease: "I'm running the biological control program with parasites we've brought back from Pakistan. We have released one. It's established. It's widespread now throughout parts of Southern California. We have a second species in quarantine now. We're waiting for permission to release that from the Federal government . . . These biological control agents are going to eventually be in everybody's backyards. They're going to be working Asian citrus psyllid populations and hopefully reducing them to less damaging levels."
The entire panel featuring UC Riverside's Dr. Hoddle and Dr. Kahn can be watched here:
Following the Citrus and Beyond! panel was a session on how to develop an economically viable farming operation on small plots of land such as those one to five-acre parcels found in the City of Riverside's greenbelt. The session was led by UC Riverside's, Dr. Milt McGiffen, Cooperative Extension Vegetable Crops Specialist and Plant Physiologist and featured small farmer and current UC Riverside graduate PhD candidate, John Chater; Eta Takele, County Director/Area Advisor Farm Management/Agricultural Economics for Cooperative Extension; and Larry Dodson, President of California Rare Fruit Growers.
John Chater spoke about the potential of avocados, citrus and pomegranates, all of which can be grown in Riverside. He discussed the high value that Hass avocados command in California. He noted, "that one interesting thing about avocados is that they're an alternate bearing crop meaning that in on-crop years you'll have high yields . . . typically associated with lower values for those crops and for off-crop years you'll get low yields, but typically you'll get higher values for those crops. So in an off-crop year you'd really want those fruit to stay on there so you can get a lot of money." He discussed the opportunity for Mandarins in Riverside, in particular, he noted a variety called the 'Tango' mandarin that was developed by Dr. Mikeal Roose at UC Riverside. The 'Tango' mandarin, Chater noted, contains less seeds than a typical mandarin, something which consumers desire and therefore commands a premium in the marketplace.
Dr. McGiffen looked at a number of the business models that small plot farmers could utilize in order to obtain economic viability including the operation of a farmstand or a Community Supported Agriculture (CSA). He outlined the pros and cons of these business models and others in his presentation, which can be viewed along with John Chater's presentation in this video:
UC Riverside, as both a participant and sponsor of the conference, took a leadership role in the proceedings and provided attendees as well as the growers, citizens and stakeholders in the City of Riverside with a wealth of insight and information on how to move forward with the development of a economically viable local food system strategy.
Categories