Original Water System that Spawned Riverside Citrus Industry Remains Key to City's Local Food Future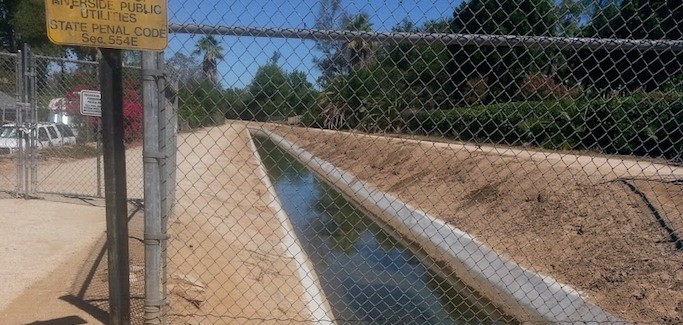 March 21, 2016 | AJ Hughes
Riverside, California and its relationship with water goes all the way back to its founding in the early 1870s, when the city was named for its close proximity to the Santa Ana River. In present times, access to water and water policy can seem like a complicated maze, one best solved by examining the city's geography and history.
The 96-mile-long Santa Ana River, the largest river in Southern California, begins in the San Bernardino Mountains and flows through Riverside and Orange county before emptying into the Pacific Ocean. The Santa Ana River Basin is massive, spanning 2,650 square miles in four counties.
Riverside uses precipitation that winds up in this basin for its water supply, as much of it is collected in 54 wells operated by Riverside Public Utilities.
The city is the birthplace of the California citrus industry, which came to fruition only because of newfound water sources. But before developer Matthew Gage came along in the late 19th century, many people had written off Riverside as nothing but arid desert.
"In 1870 the Riverside Plain was a worthless sheep range that was assessed for 75 cents an acre and the board of equalization was asked to reduce that burdensome valuation," reads an article in the May 8, 1898 issue of the Los Angeles Herald.
Then Gage built the Gage Canal System, designed to supply water for the entire city. The newfound water transformed Riverside and gave birth to its status as a prolific producer of oranges.
From the same Los Angeles Herald article: "Riverside in the course of a few years became the greatest orange producing country in the world. No other acreage in the world today, in compact form, produces so many carloads of oranges as does the Riverside settlement."
And although drought has been a recurrent problem in southern California, and even though a water shortfall in the area has been a huge issue during the past several years, Riverside is in good shape, says Justin Scott-Coe, a board member of Riverside Public Utilities.
"The City of Riverside has its own independent local water supply," says Scott-Coe, referring to the Gage Canal and city-operated wells.
This means that Riverside, unlike many other SoCal cities, has not needed to rely significantly on water from the Colorado River or sources from the northern part of the state.
Riverside-based Western Municipal Water District was formed in 1954 to gain access to supplemental water from the Colorado River. Today, it provides supplemental water to Riverside, as needed, as well as other towns in Riverside County.
According to Scott-Coe, Riverside has not needed to purchase water from Western Municipal Water District since 2009.
This water independence has helped keep water rates in the city relatively low, but prices for irrigation are even lower for Riverside growers with access to the Gage Canal.
Through a Greenbelt Flowage Agreement between the city and Gage Canal Company, eligible farmers only have to pay $9.92 per meter per month, says Todd Jorgenson, assistant general manager of water for Riverside Public Utilities.
However, this rate is exclusive to those in Riverside's Greenbelt area, who work land previously served by the Gage Canal Company or within the Gage Canal's service area. Service may be limited and is on a first-come first-serve basis. Also, the Gage Canal Company requires all new customers to have land measuring at least 2 ½ acres.
"Smaller lots are difficult to manage," says Jorgenson.
Different rules apply for farmers not within Riverside city limits. Unless these growers have their own well irrigation, they rely on water from Western Municipal Water District. Western doesn't offer reduced agricultural rates, but instead charges customers tier-based prices, says Pamela Pavela, water use efficiency specialist with the organization.
Looking Ahead
Thanks to the Gage Canal and Riverside's groundwater reserves, Scott-Coe is extremely hopeful about the future of agriculture in the city.
"We have a great present and a great future—there's nowhere else in Southern California like this," he says. "There are tremendous existing and future opportunities."
But Riversiders ought not to be complacent, says Pavela.
"Agriculture has a viable future, but efficiencies can be made," says Pavela. "For example, use drip tape and micro-spraying instead of flood irrigation."
Scott-Coe agrees: There's still work to be done.
"This is not just an issue for agriculture, but for the entire city," he says. "There needs to be a citywide conversation, and it needs to broaden. Water policy is not as simple as turning the faucet on or off."
Categories