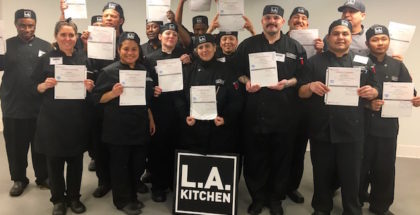 March 21, 2017 | Charli Engelhorn
Fighting hunger is more than just about food for Robert Egger, founder and CEO of L.A. Kitchen, a non-profit in Los Angeles that engages, empowers, and nourishes the local community "by reclaiming healthy, local food that would otherwise be discarded, training men and women who are unemployed for jobs, and providing healthy meals to fellow citizens," according to the organizations mission statement.
"Fighting hunger is a political act, a social act, an economic act," says Egger. "I want to be a source and develop a model that shows how you can feed more people a better meal with less money."
L.A. Kitchen is modeled after Egger's first enterprise, D.C. Central Kitchen in Washington D.C. A chance experience of accompanying friends to feed the homeless there highlighted some inadequacies Egger couldn't ignore, such as purchasing the food when so many people in the food industry he knew lamented over wasting food at the end of the night. Read More
January 9, 2017 | AJ Hughes
When Santa Ana, California pediatrician and Orange County Public Health Officer Eric Handler ran into Mark Lowry of the Orange County Food Bank some years ago, he had two questions for him:
Do you have enough food in your food bank?

If we captured all food waste, could we end hunger in Orange County?
Lowry's answer to the first question was no, and his answer to the second question was yes. This interaction led to the formation of the Waste Not OC Coalition in 2012.
With an overarching goal to eradicate hunger in Orange County, the Waste Not OC Coalition recovers food by connecting restaurants and grocery stores with food recovery agencies. It distributes that food by connecting people in need with food pantries. It also educates donors, recipients and the general public about the importance of food donation and how to safely handle donated food. Read More