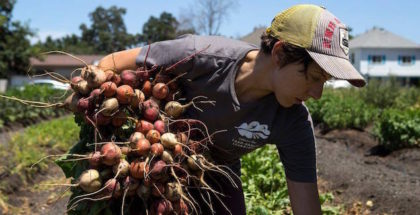 November 28, 2016 | Bethany Knipp
An urban farming project in West Sacramento, California, aims to fill the area's food deserts with fresh produce and create new farmers in the process.
Founded in 2014, the West Sacramento Urban Farm Program is an initiative of the agricultural education nonprofit Center for Land-Based Learning, headquartered in Winters, California. The program converts vacant lots in urban West Sacramento neighborhoods to increase food access, and support production of fresh fruits and vegetables.
"We're growing about 25,000 to 30,000 pounds of produce a month, so it's definitely a significant amount of produce that all stays within West Sacramento for the most part," program founder Sara Bernal says. Read More