May 12, 2016 | Abbie Stutzer
William Pattison, co-founder and president of ProduceRun, a web-based service that allows farmers to "pre-sell" goods to local consumers via a crowdfunding-like platform, is no stranger to farming. His family has worked the land for four generations.
"ProduceRun started on our own family farm," Pattison says. "We wanted a better way to be found, sell and distribute our farm products to the public. I feel that our technology can make a real difference for farmers, making it easier for them to do business, and creating easier access for buyers." Read More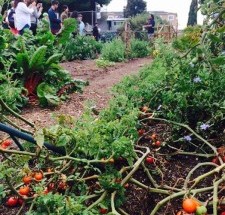 December 29, 2015 | Abbie Stutzer
Los Angeles County's blighted areas and abandoned lots could be seeing more green in the near future.
The L.A. County Board of Supervisors recently approved an Urban Agricultural Incentive Zone Program (also known as a Tomato Garden Tax Break). If implemented, the policy has the potential to transform vacant and privately owned land in the county into urban farms, and help reduce blight and illegal dumping throughout Los Angeles city and county.
In addition to adding more green space, the "tax break" also would create local jobs in urban farming and support food security and access. The details of the program still need to be worked out to make it reality. Read More