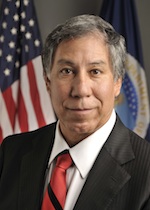 Edward Avalos is the Under Secretary for Marketing and Regulatory Programs at the United States Department of Agriculture. Mr. Avalos provides leadership and oversight for the Animal and Plant Health Inspection Service which addresses animal and plant pests and diseases; the Agricultural Marketing Service, which provides standardization testing and marketing of commodities and specialty crops; and the Grain Inspection, Packers and Stockyards Administration, which promotes marketing of livestock, cereals and meats, as well as fair trade practices.
Mr. Avalos grew up on a family farm in the Mesilla Valley of Southern New Mexico. Prior to his appointment at USDA, he served as Director of Marketing and Development at the New Mexico Department of Agriculture. He has over 30 years experience in livestock and agriculture marketing in both the domestic and international arenas. Mr. Avalos has spent considerable time working closely with producers to address industry demands; with distributors to ensure timely and feasible delivery of goods; and with retailers to showcase, promote, sell, merchandise, and inform the consumer utilizing numerous promotional and educational tools. Click here to read more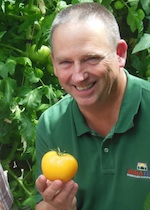 Jim Bergantz works as a Sales Engineer for Agra Tech, Inc. a manufacturer of quality greenhouses and accessories as well as a distributor of the best available equipment for commercial horticultural and agricultural growers, retail nurseries, research and education facilities.
Jim literally grew up in a greenhouse and purchased his parents' retail nursery and wholesale/retail growing operation right after graduating from college. There Jim found his passion in growing bedding plants, native trees, shrubs and poinsettias and learned there is no substitute for getting one's hands dirty and working hard. Life events prompted the closing of his nursery. To satisfy his love of horticulture and benefit his community, Jim became involved in getting a local high school greenhouse in Angels Camp, CA up and running. Click here to read more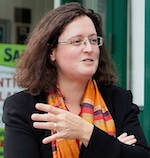 Erika Block is the Founder and CEO of Local Orbit, the supply chain platform for people who are creating a new, connected food economy. Local Orbit enables institutions and restaurants to efficiently purchase from local farmers, food makers & aggregators, while maintaining complete supply chain transparency. Online marketplaces powered by Local Orbit are active in 16 states and Canada.
Local Orbit recently launched LocalEyes™, a vendor management service for institutions that helps university, hospital and corporate foodservice operators streamline and simplify local purchasing from multiple vendors, while providing supply chain insight, producer transparency and product traceability. Click here to read more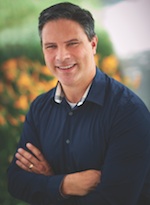 Giovanni Cavaletto is Vice President, Sourcing for Index Fresh. Giovanni's great-grandparents came to California at the turn of the nineteenth century and farmed in Santa Barbara County. He grew up on an avocado and lemon farm in Nipomo. He developed and managed lemons and avocado farms on the central coast for several years and has served as the Index Fresh V.P. of sourcing since 2007.
His practical experience is supported by advanced degrees in both agriculture and business. Giovanni's understanding of agriculture, grower's challenges and the greater avocado industry is a tremendous asset to growers and trading partners. Click here to read more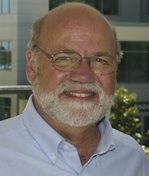 Dwight Detter: A former Vietnam War era Veteran, Dwight spent 20 years in the Food Service Industry in San Francisco and Los Angeles before joining the grocery industry. Dwight has been with Whole Foods Market for 14 years. As a local forager for the past 3 years he been helping local start-ups get on to retail shelves. Dwight also teaches a series of 4 classes throughout LA, Orange County and San Diego in conjunction with the Fine Foods Group on developing local artisan businesses. He works with community groups such as the Orange County Food Access Coalition, the San Diego Food System Alliance and county Farm to School groups. He is currently involved with developing a value added program . . . Click here to read more
Robert Egger is the Founder and President of L.A. Kitchen, which recovers fresh fruits and vegetables to fuel a culinary arts job training program for men and women coming out of foster care and older men and women returning from incarceration. L.A. Kitchen is currently holding a pilot program at St. Vincent Meals on Wheels, and will move into its own kitchen facility in 2015.
Robert pioneered this model during his 24 year tenure as the President of the DC Central Kitchen, the country's first "community kitchen", where food donated by hospitality businesses and farms is used to fuel a nationally recognized culinary arts job training program. Since opening in 1989, the Kitchen (which is a $10 million a year, self-sustaining, social enterprise) has produced over 26 million meals and helped 1,000 men and women gain full time employment. The Kitchen operates its own revenue generating business, Fresh Start Catering, as well as the Campus Kitchens Project, which coordinates similar recycling/meal programs in 33 colleges or high school based kitchens. Click here to read more
Viviana Franco is the Executive Director, who founded From Lot to Spot as a direct response to the relationship between lack of green space and the quality of life in low-income neighborhoods in 2007. Viviana was born and raised in a Hawthorne, Ca. neighborhood that was drastically transformed by the creation of the 105 Freeway. In the early 1980's , the California Department of Transportation, Caltrans, constructed Los Angeles's last freeway: the 105 or Century Freeway. However when the freeway was completed, there were countless excess right-of-way lands that remained fallow and unmaintained; left to demoralize low-income, working class communities. They were left to assume responsibility for the blight that was created. Ms. Franco grew up playing in one of these vacant lots, on 118th & Doty Ave. Playing in this vacant lot would shape her adult life and professional career. Click here to read more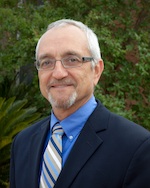 Doctor Gene A. Giacomelli is the Director of the Controlled Environment Agriculture Center [CEAC] at the University of Arizona in Tucson, Arizona, and he is a professor in the Agricultural and Biosystems Engineering Department, an adjunct professor in the Department of Plant Sciences, and a member of the Bio5 Institute. He recently completed Sabbatical leave in Italy with aerospace companies, Aero-Sekur and Thales Alenia Spazio, and with several universities, with focus on Bioregenerative life support food systems for Moon, Mars and Earth.
Dr. Giacomelli has B.S [Rutgers University] and M.S. [University of California-Davis] with degrees in engineering, and a PhD in Horticultural Engineering [Rutgers University], with advanced study in plant science and controlled environment production horticulture. This mix of technical expertise with crop production experience provides an application of engineering design to the horticultural production problems within intensive controlled environment plant production systems. He developed the Horticultural Engineering degree program at Rutgers University, the first of its kind in the US. Click here to read more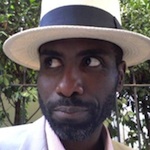 Hop "Poppa Hop" Hopkins, co-founder of PANTHER RIDGE FARM, is a certified Arborist, a Master Gardener, has his Basic Permaculture Design Certificate and is a certified Community Emergency Response Team (CERT) instructor. Hop was born in Dallas, Texas and has been a Grassroots Environmental Justice Community Organizer in Seattle, WA, Portland, OR and Los Angeles, CA. He received his BA from New College of California as a graduate in the Culture Ecology & Sustainable Communities program. There Hop focused on natural building, ecological design and analyzing race and class within the Intentional Communities movement. He and his wife, Adalila Zelada-Garcia, homeschool their two daughters and steward a quarter of an acre of land inhabited with chickens, honey bees, and multiple compost piles. Click here to read more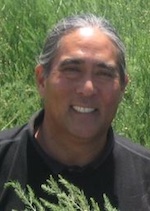 A.G. Kawamura is a third generation fruit and vegetable grower and shipper from Orange County. He is co-chair of Solutions From the Land, a non-profit organization that collaborates with farmers, ranchers, foresters and stakeholders to implement climate smart land management practices and strategies. He currently serves on several boards and committees including: The Ag Advisory Committee for the AGree Initiative; the Board on Agriculture and Natural Resources (BANR), a policy arm of the National Academy of Scienc- es' Natural Resource Council; Ag Advisory Committee for the Chicago Council on Global Affairs; American Farmland Trust; The 25x'25 Alliance, a national alliance of renewable energy stakeholders; External Advisory Board for the Agricultural Sustainability Institute (ASI) at UC Davis. He is a former chair and current board member of Western Growers Association. Click here to read more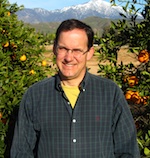 Bob Knight is a fourth generation farmer in the Inland Empire, Bob Knight grows oranges, mandarins, grapefruit, kiwifruit, vegetables, two kids, and two dogs on his 67-acre farm in Redlands. His mission is to make SoCal small farms sustainable by connecting local growers to family, school, and college eaters through CSAs and Farm2School. He is the founder of the Inland Orange Conservancy, and a farmer marketing alliance called Old Grove Orange. Click here to read more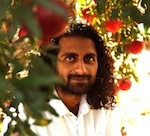 Rishi Kumar is an ecological designer, urban farmer, and educator. Since 2011, he has operated The Growing Home, an urban farm and model of suburban sustainable living based near Los Angeles. Rishi's work has been featured by the Los Angeles Times, GOOD Magazine, KPCC, KPFK, KCRW, and the urban farming documentary "Urban Fruit".
Rishi has a background in Computer Science, with degree from UC San Diego. He has apprenticed at Vandana Shiva's Navdanya Farm in Dehradun, India. Rishi is a Master Gardener and Permaculture Design Certificate holder. Click here to read more
Kevin S. Milligan was named the Deputy General Manager for Riverside Public Utilities in December 2014. He also serves as the Assistant General Manager in charge of Water Delivery.
He started his career with RPU in 1984 as an entry level engineering aide, advancing steadily to principal water engineer before joining the executive management staff in 2005.
He is a registered professional engineer and holds a Bachelor of Science in Civil Engineering from California State Polytechnic University, Pomona, and a Master of Business Administration degree from the University of Redlands. Click here to read more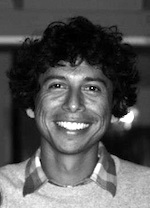 Fortino Morales III is the R'Garden (Community Garden) Coordinator at the University of California, Riverside working jointly under Agricultural Operations and the Office of Sustainability. He received his B.S. in Environmental Sciences from UC Riverside in 2011. During his time as a student he was involved in campus sustainability efforts and now serves as a staff advisor for many of them. He was a co-author of a student referendum called the Green Campus Action Plan (GCAP) that created a green fund to support sustainability internships, grants, and solar projects on campus. He was president of Sustainable UCR, a campus organization that works to make the campus more sustainable in its operations, programming, and overall environment. During his time as president they were able to break ground on a campus garden in 2009 in partnership with the campus and the Salvation Army. Click here to read more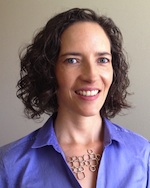 As Kaiser Permanente's (KP) Sustainable Food Program Manager since 2008, Kathleen Reed designs and implements systems to manage and expand KP's national food programs, including sustainable food sourcing initiatives, farmers markets, the Healthy Picks Program, and KP's food-related environmental initiatives. She leads KP's effort to increase the organization's purchasing of sustainable food, which now includes beef and chicken from animals raised without antibiotics or added hormones. Kathleen also serves as KP's National Farmers Market Coordinator, supporting the success of more than 50 farmers markets and farm stands at KP facilities in four states. Click here to read more
Joey Romero is progam director for Mobile Fresh, an innovative social enterprise from Family Service Association that takes on the problem of food deserts and food insecurity in communities across the Inland Empire. Family Service Association was recently awarded the prestigious NBC Universal 21st Century Solutions grant. We received $100,000 to support FSA MOBILE FRESH, our innovative grocery store on wheels, which seeks to end food deserts in the Inland Empire.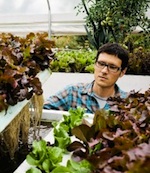 David Rosenstein, a third- generation Angelino, began construction of the EVO Farm prototype just days before his first child was born as an act of optimism. Prior to launching into urban farming, David produced a number of socially conscious documentary films mostly for PBS. After years of research and travel he began to understand the critical nature of rethinking what we eat, how we produce it and how we access that food.
The pursuit of the urban farming life is a natural progression for him- from producing 'food for thought' to producing thoughtful food. David is Chair of the Aquaponics Association- Western Region. He also Chairs the committee on Urban Agriculture for the Los Angeles Food Policy Council. Click here to read more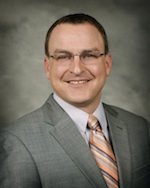 Justin Scott-Coe, Public Affairs Director for the Monte Vista Water District, has over 11 years of experience in water resource management and public affairs program development. During his eight years at the District, Mr. Scott-Coe has served in and now manages the Public Affairs Department, providing public information, water resource planning, and demand management services. He is currently the District's designated representative on the Chino Basin Watermaster Appropriative Pool Committee and Advisory Committee. Prior to joining the District, Mr. Scott-Coe was employed at Integrated Resource Management, LLC as a Water Resource Manager, where he provided water resource management, research, and industrial and municipal water rights support services to public and private sector customers, including Fortune 500 corporations.
In 2009, Mr. Scott-Coe was appointed to the Riverside Board of Public Utilities and served as Board Chair in 2013-2014. Click here to read more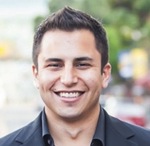 Pierre Sleiman is the founder and CEO of Go Green Agriculture, an innovative company that grows produce inside high-tech greenhouses using hydroponics. Go Green's mission is to setup greenhouses across the country to provide local jobs and fresh, delicious, and nutritious produce to the community.
Pierre has become involved in the mission of accelerating the movement towards local and sustainable farming and fostering interest in youth to choose agriculture as an exciting career. Pierre is the founder and CEO of Go Green Agriculture, a local farming business that grows local, high-quality leafy greens. He has been named as one of the "50 People to Watch in 2013″ by San Diego Magazine and has been featured in over two-dozen other publications and live news broadcasts. He holds a Masters degree in Business from UC San Diego and a double Computer Science/Business bachelor's degree from UC Riverside. Click here to read more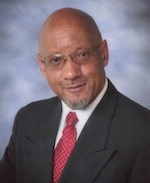 Rodney K. Taylor is the Director of Nutrition Services, for the Riverside Unified School District, in Riverside, California.
A noted pioneer, and expert in farm-to-school salad bars, he is particularly known for establishing the "Farmers' Market Salad Bar" (FMSB) program in 1997, while working as Director of Food and Nutrition Services in the Santa Monica-Malibu Unified School District, in Santa Monica, California.
Rodney is the recipient of numerous honors and awards. In 2013 he received the Center for Ecoliteracy's " Leadership Award", The California Endowment's "Health Heroes" Award, Loma Linda University Award for "The Promotion Of Healthy Lifestyles—For Outstanding Commitment To The Public's Health," The Riverside Human Relations Commission "Heroes Award" and the N.A.A.C.P. "Education Award," just to name a few. Click here to read more
Robert Tse creates and implements innovative strategies to benefit California's regional and rural economies.
He integrates policies, resources and initiatives through federal, state, local government and public-private partnerships. He is the USDA lead for the Strong Cities – Strong Communities, (SC2) White House pilot initiative in Fresno. He is driving strategies for urban-rural broadband infrastructure and development of regional agriculture technology economic clusters in areas such as Fresno and Sacramento. His broad strategic reach also includes goods movement, international trade, health-food-agriculture systems, veterans and farming, water, and energy. He is the State Broadband Coordinator for USDA CA Rural Development. Click here to read more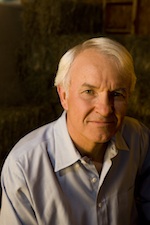 From 1979 to 2003, Mark Winne was the Executive Director of the Hartford Food System, a private non-profit agency that works on food and hunger issues in the Hartford, Connecticut area. During his tenure with HFS, Mark organized community self-help food projects that assisted the city's lower income and elderly residents. Mark's work with the Food System included the development of commercial food businesses, Connecticut's Farmers' Market Nutrition Program, farmers' markets, a 25-acre community supported agriculture farm, a food bank, food and nutrition education programs, and a neighborhood supermarket.
Mark is a co-founder of a number of food and agriculture policy groups including the City of Hartford Food Policy Commission, the Connecticut Food Policy Council, End Hunger Connecticut!, and the national Community Food Security Coalition. He was an organizer and chairman of the Working Lands Alliance, a statewide coalition working to preserve Connecticut's farmland, and is a founder of the Connecticut Farmland Trust. Mark was a member of the United States delegation to the 2000 World Conference on Food Security in Rome and is a 2001 recipient of the U.S. Department of Agriculture Secretary's Plow Honor Award. From 2002 until 2004, Mark was a Food and Society Policy Fellow, a position supported by the W.K. Kellogg Foundation. Mark serves part time as a Senior Advisor to the Food Policy Networks Project at the Johns Hopkins University Center for a Livable Future. Click here to read more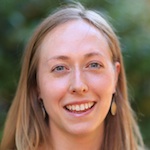 Krysia Zajonc: I am the CEO and cofounder of Local Food Lab. I am also a food entrepreneur and I have worked internationally with farmers, producers and buyers of organic food. In 2015 I was named one of Forbes' 30 Under 30 in Social Entrepreneurship. Previously I worked for Facebook and for Stanford University. I attended Stanford University and Columbia Business School. My experience as a food entrepreneur in Central America gave me a window into how disconnected people are from their food—what they eat, where it comes from and why it matters. I am passionate about reconnecting people to their food and food systems. I have been a speaker at Stanford University's Food Summit, San Jose State University, the Food Hackathon . . . Click here to read more