Speaker Walt Sandford, Co-founder Good Neighbor Gardens and Executive Director of the San Diego Community Garden Network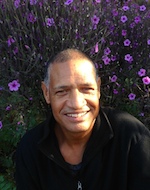 Walt Sanford first found solace in an ancient grove of Sequoia trees in Sequoia National Park at the age of ten. Later, as a scholar/athlete at a prestigious San Francisco Jesuit high school, Walt had obtained serenity by walking through the Rhododendron Dell on the way home from football practice. Many Saturday mornings, Walt would be greeted by several six packs and one-gallon containers in the garage to be used for planting Geraniums, Junipers, trees and other plants at his Richmond district home. Forty years later, those same trees and plants are beaming and healthy.
As a camp counselor for Catholic youth organizations, Walt was inspired to give back to the community. Teaching children to kayak, plant, mountain climb, ride horses, backpack in the wild, cave and spelunk, Walt found a sense of purpose and connection with nature education. After receiving his Masters' degree in Public Health, Walt began educating medical students about the health care system. Systems education became a tandem vocation with nature and survivalist education, and the process of growing and cultivating delicious food by growing plants as a Spiritual path formed itself in Walt's life.
Always Science and Math oriented, Walt has become a Master Compostor in order to focus on healing the soil to create the best food possible from the earth. Walt became a member of the San Diego Amateur Winemaking Society, planting several acres of grapevine and harvesting at full yield. Walt has acted as Master Caretaker of several groves of avocado and orange trees in Escondido, lending further urgency to the need to heal people with food.
Working with hospitals and community representatives in violence prevention programs and public health, Walt kept his original vision of creating a nourishing and healing environment within the context of community and stewardship. Walt is the underwriter of multiple projects about cataloging and exposing systemic violence in communities, as well as creator of Sleepless In San Diego, an annual outreach event to combat and prevent homelessness and its effects in San Diego. He is a very successful fundraiser on behalf of community programs and resources, having raised over ten million dollars for the San Diego Food Bank, wildfire relief and bioterrorism prevention.
His knowledge of natural pest remediation methods, water quality and sourcing methods, crop rotation, cultivation methods and soil quality maintenance has enriched Good Neighbor Gardens with a braintrust of farmhands who are truly dedicated to the practices that keep communities happy, nourishing and strong.
Good Neighbor Gardens was an opportunity to integrate a lifetime of learning into focused doing, being and living that not only makes individuals healthier, but helps heal the land.
Walt is also the Executive Director of the San Diego Community Garden Network, which provides technical assistance, policy advocacy and garden education trainings which promote community well being.
Register to hear Walt Sandford speak at the 3rd Annual GrowRIVERSIDE Conference: Cultivating our Future on March 21 – 22 at the Highlander Union Building at University of California, Riverside by going to this URL: https://www.eventbrite.com/e/3rd-annual-growriverside-conference-tickets-20479422504