Rishi Kumar, Founder of The Growing Home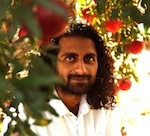 Rishi Kumar is an ecological designer, urban farmer, and educator. Since 2011, he has operated The Growing Home, an urban farm and model of suburban sustainable living based near Los Angeles. Rishi's work has been featured by the Los Angeles Times, GOOD Magazine, KPCC, KPFK, KCRW, and the urban farming documentary "Urban Fruit".
Rishi has a background in Computer Science, with degree from UC San Diego.  He has apprenticed at Vandana Shiva's Navdanya Farm in Dehradun, India. Rishi is a Master Gardener and Permaculture Design Certificate holder.