Pierre Sleiman, Founder and CEO of Go Green Agriculture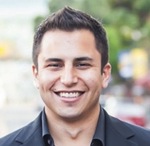 Pierre Sleiman is the founder and CEO of Go Green Agriculture, an innovative company that grows produce inside high-tech greenhouses using hydroponics. Go Green's mission is to setup greenhouses across the country to provide local jobs and fresh, delicious, and nutritious produce to the community.
Pierre has become involved in the mission of accelerating the movement towards local and sustainable farming and fostering interest in youth to choose agriculture as an exciting career. Pierre is the founder and CEO of Go Green Agriculture, a local farming business that grows local, high-quality leafy greens.  He has been named as one of the "50 People to Watch in 2013″ by San Diego Magazine and has been featured in over two-dozen other publications and live news broadcasts.  He holds a Masters degree in Business from UC San Diego and a double Computer Science/Business bachelor's degree from UC Riverside. Pierre was also recently elected to the Board of Directors of the San Diego Farm Bureau.