Leah Di Bernardo, Founder and Chef of E.A.T Marketplace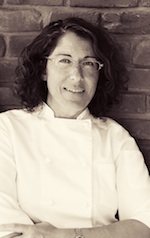 Leah Di Bernardo is the founder and chef of E.A.T, a farm-to-table style eatery, specialty food marketplace, sustainable education/event space, and home delivery service for both local organic produce and meals, conveniently located in the heart of Old Town Temecula.
Recognizing that improving our food system and our health starts with showing people how to source and utilize sustainable, clean ingredients, Leah conceptualized a new kind of Eatery that is delicious, healthy and educational. While good food is not cheap, Leah believes that supporting local growers and food artisans will ultimately make sustainable food available to everyone.
Leah is a champion of food education and is a leader in her community of over 24 academic and edible school garden programs. She spearheaded the first middle school Slow Food chapter in our Nation, founded the events- 'Field To The Fork' '100 Mile Dinner' and the ever growing and popular- 'Farm to Table Dinners'.