Jim Bergantz, Sales Engineer at Agra Tech, Inc.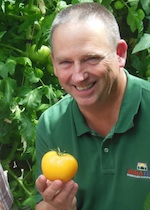 Jim Bergantz works as a Sales Engineer for Agra Tech, Inc. a manufacturer of quality greenhouses and accessories as well as a distributor of the best available equipment for commercial horticultural and agricultural growers, retail nurseries, research and education facilities.
Jim literally grew up in a greenhouse and purchased his parents' retail nursery and wholesale/retail growing operation right after graduating from college. There Jim found his passion in growing bedding plants, native trees, shrubs and poinsettias and learned there is no substitute for getting one's hands dirty and working hard. Life events prompted the closing of his nursery. To satisfy his love of horticulture and benefit his community, Jim became involved in getting a local high school greenhouse in Angels Camp, CA up and running. He mounted a volunteer effort to raise the funds necessary to get the cooling system operational, installing an energy curtain system and high tech environmental controls essential for the success of a new program. While putting the program together, Jim learned the greenhouse had been manufactured by Agra Tech, Inc., one of the world's leading manufacturers of commercial greenhouses. Ray Pound, who had originally constructed the structure, was instrumental in providing technical advice and hands-on support. That connection led to Jim joining Agra Tech, Inc.