Hop "Poppa Hop" Hopkins, Co-Founder of PANTHER RIDGE FARM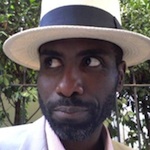 Hop "Poppa Hop" Hopkins, co-founder of PANTHER RIDGE FARM, is a certified Arborist, a Master Gardener, has his Basic Permaculture Design Certificate and is a certified Community Emergency Response Team (CERT) instructor. Hop was born in Dallas, Texas and has been a Grassroots Environmental Justice Community Organizer in Seattle, WA, Portland, OR and Los Angeles, CA. He received his BA from New College of California as a graduate in the Culture Ecology & Sustainable Communities program. There Hop focused on natural building, ecological design and analyzing race and class within the Intentional Communities movement. He and his wife, Adalila Zelada-Garcia, homeschool their two daughters and steward a quarter of an acre of land inhabited with chickens, honey bees, and multiple compost piles.
For seven years Poppa Hop contributed his talents to the Los Angeles Conservation Corps in various roles including Urban Forestry Manager and Director of Vocational Programs. In these roles he spearheaded program implementation, created training programs and assisted with curriculum development for underserved youth in the areas of Wildland Firefighting, Environmental Remediation, Water Efficiency and Solar Installation. He then spent a year and a half with the Los Angeles Neighborhood Land Trust where he was the Director of Programs and managed the Youth Education and Urban Agriculture program. Poppa Hop has also served as a Board Member for the Community Coalition for Environmental Justice, Western States Center and People's College of Law. Presently, Hop sits on the Advisory Committee for the Southern Food and Beverage Museum, is a Board Member for Village Playgarden (where he earned his nickname) and an active member of the Urban Agriculture Working Group of the Los Angeles Food Policy Council.
Additionally, Poppa Hop is a long time vegetarian, Nonviolent Communication practitioner and recently completed the Ojai Foundation's Center for Council Practice Training for Social Justice Organizers. Hop believes that life is not a competitive struggle and he is driven by his vision to create a network of residential food forests, in order to support the development of stable, human-scale, solar, self-reliant neighborhood communities integrated with cooperative local economies.