Erika Block, Founder and CEO of Local Orbit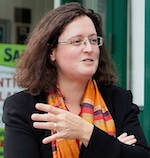 Erika Block is the Founder and CEO of Local Orbit, the supply chain platform for people who are creating a new, connected food economy.  Local Orbit enables institutions and restaurants to efficiently purchase from local farmers, food makers & aggregators, while maintaining complete supply chain transparency. Online marketplaces powered by Local Orbit are active in 16 states and Canada.
Local Orbit recently launched LocalEyes™, a vendor management service for institutions that helps university, hospital and corporate foodservice operators streamline and simplify local purchasing from multiple vendors, while providing supply chain insight, producer transparency and product traceability.
By enabling efficient, decentralized supply chains, Local Orbit saves money for foodservice buyers and enables them to meet customer demand for locally sourced food, while increasing market share for small and mid-size food producers.
Prior to Local Orbit, Erika founded and ran an entrepreneurial arts organization, producing cross-sector partnerships in the US, Great Britain and South Africa. She also led the renovation of a vacant building in Detroit into a theater, gallery and bar where she worked with vendors to source local food for events. Throughout her career, Erika has created collaborative environments that facilitate learning and action.  She has an MFA from Columbia University and studied Interactive Technology at NYU.  Erika comes from a family of fruit peddlers, meat processors, restaurant owners and wholesalers. She is a PopTech Social Innovation Fellow. Other awards include Crain's Detroit Business 40 Under 40.