Elvis Cordova, Deputy Under Secretary for Marketing and Regulatory Programs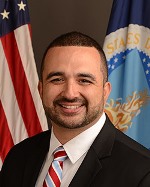 Mr. Cordova is the Deputy Under Secretary for the Marketing and Regulatory Programs Mission Area at the U.S. Department of Agriculture where he helps to oversee the Agricultural Marketing Service, the Animal and Plant Health Inspection Service, and the Grain Inspection, Packers and Stockyards Administration. He previously served as the Chief of Staff for the Research, Education & Economics Mission Area at USDA where he helped to oversee the Agricultural Research Service, the Economic Research Service, the National Agricultural Statistical Service, and the National Institute of Food and Agriculture.
Before joining USDA, he served as a Presidential Management Fellow at the Farm Credit Administration and the U.S. Department of Energy where he worked on issues encompassing alternative energy, economic development, financial services, and international & public affairs. Mr. Cordova has also held the position of Vice President of Public Relations at Tzolkin Media Inc., a D.C. based start-up company that developed online entertainment content for the Latino youth market. Prior to joining Tzolkin Media, he was the Director for Latin American programs at the Self Reliance Foundation where he managed the organization's civil society building projects, which focused on teaching social media technology to journalists and radio producers throughout Latin America. Before relocating to Washington D.C., he lived in Argentina and Brazil where he conducted research on economic and trade development. During his time in New York City, he worked at the United Nations as a consultant where he researched state capacity building strategies aimed at enhancing trade development in emerging markets. He also worked as a management planning analyst for the New York City Department of Parks and Recreation. Mr. Cordova began his career as a financial analyst at the Harvard Management Company in Boston, Massachusetts.
Mr. Cordova, a recipient of the Woodrow Wilson Graduate Fellowship, holds a Master's Degree in Public Administration from the Wagner Graduate School of Public Service at New York University and a Bachelor's Degree in Criminal Justice from Northeastern University. He also holds various professional and academic certificates from Georgetown University, Harvard University, University of California at Berkeley, Universidad de Sevilla in Spain, Universidad de Buenos Aires in Argentina, Ecole Nationale des Travaux Publics de l'Etat in France, and Pontificia Universidade Catolica in Brazil. His languages include Spanish, Portuguese, and French. Mr. Cordova recently served as a member of the Executive Board of the Washington D.C. Chapter of the National Society of Hispanic MBAs.