Don Webber, Partner at Cultivating Good and Owner of Harvest 2U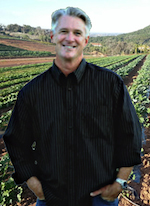 Don Webber, Partner, Cultivating Good, Inc. brings more than 20 years experience in both corporate and non-profit management, leadership and governance to the Cultivating Good team. He has applied his entrepreneurialism to start-up, local and national companies and non-profit organizations. Don is currently a Board Member of Slow Food Temecula Valley.
After creating Harvest 2U, a successful third party CSA (Community Supported Agriculture) delivering locally grown organic produce in Riverside and San Diego Counties, Don joined forces with E.A.T Marketplace to form Cultivating Good. The purpose of Cultivating Good is to promote awareness, foster education, improve health and create jobs in our communities through a focus on sustainable agriculture and the craft-food industry. Cultivating Good brings an entrepreneurial approach to managing and distributing good, clean, local food literally from the ground to the plate.