Cheryl Garner, Executive Director of Dining, Conference and Catering Services at UCR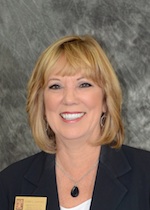 Cheryl Garner has been the Executive Director of Dining, Conference and Catering Services at the University of California, Riverside, for over six years. Her passion for environmentally sustainable, socially responsible, delicious and nutritious food is exemplified in not only the focus of the Dining operations on campus but in her committee and association activities. She is the chair of the UCR Sustainability Committee on Food, a co-chair for the UC Global Food Committee, and the National Education Chair for NACUFS, the National Association of College & University Food Services. Most recently she joined the Executive Committee for the Menus of Change University Research Collaborative, an organization whose vision is to create a dynamic, invitational network of leading university scholars, business leaders, and executive chefs to collaborate on research and education in support of culinary centric, evidence-based food systems innovation within and beyond universities. The collaborative embraces the 24 Menus of Change Principles of healthy sustainable menus developed by the Culinary Institute of America (CIA) and the Harvard School of Public Health and leverages the unique position of universities to advance healthier, more sustainable life-long choices amongst students-who will soon be parents and adult decision makers- by connecting a diversity of insights from academic programs, dining services, and athletics (performance dining).
Prior to arriving at UCR, Cheryl worked for Starbucks Coffee Company as the Director of Marketing and Product where she directed the development of regional food products for over 3,000 stores in the Western half of the US and oversaw the implementation of national food and beverage promotions. She also worked for five years with the Walt Disney Company as the Director of Food Concepts and Product Development and oversaw the ideation, creation and implementation of all restaurants within the Disney's California Adventure Park, as well as new designs for Disneyland.
Cheryl has spent over 20 years in College and University Foodservice at UCLA, the University of San Diego and Texas A&M, as well as UCR.